Cape Grace

Star Rating:

Hotel Type:

Business, Spa, Family, Conference, Penthouses & Presidential Suites

Address:

West Quay
V&A Waterfront
Cape Town 8002
Western Cape
South Africa
Single Rate for Today:
R4730.00
Book Now
Overview
The Cape Grace in Cape Town is located in the Victoria and Alfred Waterfront. This award-winning hotel offers stylish accommodation as well as world class facilities and service to its discerning business and leisure guests. Located on its very own private quay at the harbour of the V&A Waterfront, the Cape Grace enjoys a convenient location at Cape Town's most popular shopping and tourist attraction.
Accommodation
Each of the 121 individually custom-decorated hotel rooms and suites reflect the modern elegance with the old world charm of the Waterfront. The hotel rooms are unique in design with special and refreshing décor to replicate the beauty and comfort for which this Cape Town hotel is famous.
The hotel rooms and suites feature paintings of local artisans and small businesses. They are also decorated with exclusive hand painted fabrics and custom made metal, glass and leather items, whilst remembering the past with original antiques and artifacts from yesteryear, provide the Cape Grace hotel with its old world atmosphere and comfortable atmosphere.
The different room types include Luxury Rooms, Superior Rooms, Rooftop Luxury Rooms, Rooftop Terrace Rooms, One Bedroom, Two Bedroom and Three Bedroom Suites as well as the luxurious Penthouse.
Hotel room amenities:
The lavish facilities and amenities of the rooms and suites make for a relaxed and comfortable stay ideal for leisure guests, families, honeymoon couples and business travellers.
These facilities and amenities include: french windows with views of the yacht marina or the working harbour, fresh flowers and selected books, separate bath, shower and toilet, Charlotte Rhys toiletries, robes and slippers, hair dryer, sewing kit, nail file, washing line, scale, bathroom telephone, iron and ironing board, umbrella, alarm clock, fully stocked private bar and deli, complimentary tea and coffee making facilities, flat-screen, high definition TV, satellite television channels and selected radio stations, iPod docking stations in all rooms, international plug points and fax / internet modem lines as well as private room safes.
Services
Services as well as facilities which are available to guests include:
24-hour room service
State-of-the-art security and safe systems
A 15-metre outdoor heated swimming pool and terrace
Complimentary transfers to the nearby gym
Daily local and international newspapers
Day-use facilities for early arrivals and late departures
DVD selection available on request and a variety of satellite channels available on LCD televisions
Overnight shoe shine service
A boardroom which can seat up to 14 business delegates
Wining and Dining
Signal Restaurant
The gourmet Signal Restaurant has been created to stay ahead of global trends and to deliver a unique combination of mouth watering dishes which represent the many cultures of Cape Town's rich heritage.
Bascule Whisky, Wine & Cocktail Bar
The luxuriant and popular Bascule Whisky, Wine and Cocktail Bar at the Cape Grace Hotel offers over 400 whiskies from around the world and an impressive selection of the finest South African wines. Situated right on the water's edge of the international yacht marina on the Waterfront, the Bascule Bar is the perfect setting to take in the sights and sounds.
Spa Treatments
The Health and Beauty Spa invites guests to indulge in a number of pampering spa treatments which are designed to relax and rejuvenate. Exclusive facilities set in stylish surrounds are complimented by highly skilled staff and a menu of innovative spa treatments inspired by the African continent. The attention to detail ensures that guests leave with their well-being restored.
Awards
Due to is high level of service and exclusive facilities, the five star
Cape Grace Hotel
in Cape Town has won several awards in the last few years which include the:
"Best Luxury Hotel/Resort in Africa & Indian Ocean" Luxury Travel Advisor Awards of Excellence 2009,
"World's Best Hotels in Africa for Families" Travel & Leisure World Awards (US) 2009,
"Most Stylish New Business Hotels around the Globe" Wallpaper & Fortune Magazines (UK) 2009
"Best City Hotel in Africa & The Middle East" Travel & Leisure World Service Awards (US) 2009
"Best Independent Hotel" Luxury Travel (UK) 2008 award to mention but a few.
Services
24 hour reception service
24 hour room service / in room dining
Airport transfers
Babysitting
Butler service
Concierge services
Housekeeping service
Laundry services
Luggage storage
Porters
Tours & Transfers on Request
Valet parking
Voice mail
Wake-up call
The Cape Grace Hotel welcomes children of all ages. Children under the age of 12 years sharing a Superior Room with two adults are accommodated free of charge.
Children are accommodated on a fold-away bed.
Children's breakfast is not included in the nightly charge and an additional cost is applicable.

From the colourful and jam-packed activity packs presented to children on arrival at the Cape Grace Hotel in Cape Town to the evening story time and the latest game consoles and books, the hotel will provide families with a memorable stay.

The hotel recommends child-friendly Cape Town activities for daytime adventures and guests are welcome to make a selection from the hotel's library of games and DVDs for in-room entertainment. The specially created children's menu is always a treat for children and babysitting services are available upon request.

Entertainment

On arrival, children are presented with a Cape Grace welcome gift
Either story time or an exciting gingerbread man decorating activity will take place every evening at 18h00
A selection of children's DVD's, game consoles, books and board games are available on request at no additional charge
Disney Channel and Animal Planet TV Channel

Meal Time

Children are treated to the chef's specially created menu in Signal restaurant
High chairs are available if required

Emergency Supplies for babies and children

Disposable nappies
Pacifiers
Thermometers
Bibs
24-hour doctor on call

Sleeping Arrangements

Foldaway beds and pullout sofas are available
Cots available

Safety Equipment

Car seats
Toilet step and seat
Swimming aids
Baby monitors
Socket covers
Room Types
Room Amenities
Hotel Restaurants
The Signal Restaurant at the luxurious Cape Grace Hotel in Cape Town, South Africa, has been voted 'Best Deluxe Restaurant' at the V&A Restaurant Awards in August 2009.
Creative Cape Cuisine which is fresh and innovative is presented at the fine dining restaurant of the Cape Grace Hotel. Led by Executive Chef, Malika van Reenen, the Signal Restaurant draws on influences from the many cultures and nations that have called upon this region during its history, namely French Huguenots, British settlers as well as Dutch and Asian traders. The menu connects guests with local farmer's offerings and the very best combinations of the Cape's heritage and present tastes. From lentil and butternut bobotie, to seared duck breast on herbed goat's cheese gnocchi, every dish has been carefully considered to deliver gastronomical experience.
In Cape Town, at exactly 12h00 every day, a loud bang fired from a cannon on Signal Hill announces to the city that midday has arrived. The Cape was established by the Dutch East India Company as a halfway house along the trade route between the East and Europe. This became a place to mend ships, rest and heal weary visitors and most importantly to collect fresh produce grown by farmers in the area in order to feed famished sailors and soldiers before heading off again for the second leg of their arduous sea voyage. The new haven for diners at the Cape Grace Hotel was named Signal Restaurant in honour of this unique piece of the Cape's rich heritage.
Address: West Quay, V&A Waterfront, Cape Town 8002, Western Cape, South Africa
Make a Reservation
Indulge the senses in the recently launched gastronomy offering at the Cape Grace Hotel: The Sugar Buffet. Executive Chef has extended her creativity to the Cape Grace library where guests can enjoy an abundance of deliciously mouth-watering sweet treats.

Tuck into the Sugar Buffet, a delectable feast for the eyes that is sure to send taste buds into overdrive. Sweet treats which are on offer include cherry-red toffee apples, meringues as light as gossamer, pistachio-laced chocolate fudge, coconut-covered lamingtons and candy stripe sweets.
Address: West Quay, V&A Waterfront, Cape Town 8002, Western Cape, South Africa
The Bascule Whisky Bar at the five star Cape Grace Hotel in Cape Town has been voted Best Pub Style at the V&A Restaurant Awards in August 2009.
Located on the water's edge of the international yacht marina on Cape Town's Victoria & Alfred Waterfront, the popular Bascule Whisky, Wine & Cocktail Bar is the perfect setting to take in the sights and sounds of the busy Waterfront in a relaxed social atmosphere.
This unique bar at the Cape Grace Hotel offers over 400 whiskies from around the world as well as an impressive selection of the finest Cape wines.
During the day, the Cape Grace's Bascule Bar is a lively and vibrant destination, the ideal place to enjoy breakfast, a cappuccino or light lunch. By night, this famous bar is transformed into a glamorous Whisky, Wine and Cocktail Bar, where whisky connoisseurs and social butterflies gather in equal measure to enjoy a slice of Cape Town's social energy.
Address: West Quay, V&A Waterfront, Cape Town 8002, Western Cape, South Africa
Hotel Spa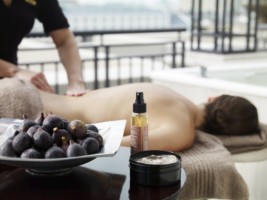 The Spa at the five star Cape Grace Hotel in Cape Town invites guests to indulge in a number of pampering treatments designed to relax and rejuvenate. Superb facilities set in stylish surrounds are complimented by highly skilled staff and a menu of innovative treatments inspired by the African continent to ensure clients leave with their wellbeing restored.

Sweeping views of Table Mountain, the city and the yacht marina add another impressive element to the sensory experience. Whether a weary business executive in need of stress relief or a leisure traveller wishing to enhance their holiday experience, the magnificently situated top floor spa is a welcome and restful retreat.

Fitness Studio

The Fitness Studio at the Cape Grace Hotel is situated on the top floor. The Fitness Studio boasts breathtaking views of the colourful V&A working harbour and provides an ideal inspiration for a good workout.

With equipment including a treadmill, a stationary bike and a kinesis machine, exercise is a true pleasure. Outsourced personal trainers as well as Pilates instructors can be arranged upon request.

Spa treatments include:
Massage therapies
Facial therapies
Body treatments
Hand and feet care
Hair care
Massage therapies

Inspired by the people and cultures of Southern Africa, the flora of the continent and authentic African remedies, The Spa's treatments and specialised techniques reflect the strength and mystery of the African heritage.

A pre-treatment consultation determines guests' exact needs - from stress relief to pain management or body balancing, the skilled practitioners assist to determine the best individual massage treatment.

Facial therapies
The hotel offers a variety of hands on facial treatments. Guests are invited to relax and take the time to share their skin care concerns with the skilled therapists. Their knowledge assists to select a facial treatment best suited.

At the Cape Grace Hotel the best skincare treatments are available based on two product ranges that not only put guests first, but also make it a priority to give back to the environment and the local community. Comfort Zone is the luxury Italian range and Africology the local range. Both offer a unique experience for the senses.

Body treatments

Choose from a series of luxurious top-to-toe body treatments - ranging from deep cleansing masks to exfoliation with sunless tanning options to therapies that combine massage and facial therapy specifically working to re-energise or relax, depending on your needs. A combination of African-influenced techniques and locally harvested oils and ingredients ensure an enviable all over glow.

Hand and Feet Care
Choose from one of two ranges for your luxury manicure or pedicure - Marine, containing a variety of relaxing, natural elements from the ocean, or Africology, containing Marula, Rooibos and African Potato extracts which hydrate and nourish. The manicures and pedicures also include pre and post treatments, beginning with lymph drainage of the limbs. The result, a more beautiful you.

Hair Care

Whether it is a night out or simply an indulgence after a treatment at The Spa, step into the Vanilla Salon. Hair appointments range from a simple cut and blow dry to treatments that will leave you ready to face the world in all your finery.
Send an Enquiry
Activities / Sports and Leisure
Conferences and Events
Facilities
Cape Grace Specials & Packages
Directions
Directions from the Cape Town International Airport to the Cape Grace Hotel:

1. Head north on New Eisleben Rd toward Miller St 1.1 km
2. Turn right at Borcherds Quarry Rd 33 m
3. Take the ramp onto Settlers Way 12.8 km
4. Take the exit onto De Waal Dr 1.1 km
5. Continue onto Eastern Blvd 3.9 km
6. Take the exit onto Eastern Blvd 1.2 km
7. Turn right at Coen Steytler (Walter Sisulu Blvd) Ave 77 m
8. Continue onto Dock Rd 0.3 km 9.At the roundabout, take the 2nd exit onto W Quay Street
9. The Cape Grace Hotel will be on the left hand side.