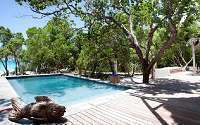 Vamizi Island is home to six exclusive villas each of which features an individual decor and set up. Offering either five or six bedrooms, these villas provide privacy for guests to enjoy during their stay.
Casamina Villa
This exclusive villa features a total of six bedrooms as well as a dining venue, bar, lounge area and pool. The dining and bar area are covered by a thatch roof with open sides making for great outdoor living. With amazing views over the ocean, guests enjoy private access to the outdoor swimming pool. A games room with satellite television, as well as books and board games are also available.
Casa Marjani
Decorated with earthy, natural colours, the five bedroom Casa Marjani offers a stunning private beach front setting. Set next to a lush forest, this luxury villa is a perfect hideaway for families. The master room provides gorgeous ocean views and has a private beach and en-suite bathroom with walk-in shower.
The other sea facing room offers a private veranda which leads to the beach (en-suite bathroom with walk-in shower). Additional two bedrooms are set back into the forest. Furthermore, this villas boasts a great elevated treehouse bedroom with a welcoming en-suite bathroom. This villa does not feature a swimming pool.
Kipila Villa
Beautiful views can be admired from the five bedroom Kipila Villa. It is set on three acres of gardens which line a stretch of private beach. Offering four en-suite bathrooms overlooking the ocean and a children's room, this villa is ideal for families. The villas bathrooms are beautifully designed with garden elements to bring the outdoors inside.
A comfortable sitting room invites for memorable times spent together and guests may enjoy a refrehsing swim in the lap pool. The tower, which draws its inspired from the Portuguese lighthouse on the island, provides nice sea views.
Papilio Villa
The six bedroom Papilio Villa is decorated in elegant hues of cream, blues and light wood furnishings. Located in three acres of forest, Papilio features a courtyard theme with split-level living. The cosy nooks and the beautiful rooms provide an ideal place for relaxation. At the dining area scrumptious menus are served by a private chef. There are two large sitting rooms in the villa, one overlooking the beach and another with a fireplace.
Furthermore, a bar area, swimming pool and private beach sala can also be found here. The en-suite bedrooms provide their own deck and living area. Two additional bedrooms are built as tree houses which are accessed by a suspended walkway. A deck in the tree canopy links the two tree houses.
Suluwilo Villa
Featuring a beautiful combination of contemporary finishes and Arabic influences, this five bedroom villa provides a sunken courtyard with cosy nooks. Four nicely adorned en-suite bedrooms are available as well as one children's room with bunk beds and an adjoining child minder's room.
The villa's exquisite master bedroom has a small area where two single beds for children can be found. Mouth-watering meals are served by the private chef in the spacious dining room or the outdoor beach sala. A private swimming pool is available as well as an entertainment room which is complete with satellite television, table-tennis and board games.
Tartaruga Villa
The island's Tartaruga offers five bedrooms, welcoming private decks, a well appointed living area as well as an outdoor, private swimming pool. Guests enjoy direct beach access from here. Three rooms have a deck and a sitting room. The master guest room provides an interleading area which accommodates two young children.
The additional two rooms can be found in the lush canopy of the forest, in the unique tree houses. Furnished with three single beds, these can be converted into a super-king bed. The palm thatch roof makes for a comfortable tropical getaway. Next to the sitting room is a shaded al fresco sala, and an additional dining area is situated at the edge of the beach.