Twelve Apostles Hotel & Spa

Rating:

Hotel Type:

Business, Spa, Family, Conference

Address:

Victoria Road
Camps Bay
Western Cape
South Africa
Overview
The Twelve Apostles Hotel Cape Town is situated in Camps Bay, on the the edge of the Table Mountain range overlooking the deep blue Atlantic ocean between the seaside towns of Camps Bay and Hout Bay. The Cape Town city center, the Victoria & Alfred Waterfront, and the sandy beaches of Hout Bay, Camps Bay, Llandudno and Clifton are in easily reached of the hotel.
This coastal boutique hotel prides itself on delivering outstanding first-class hospitality combined with exclusive facilities, making for an unforgettable seaside experience. Guests are comfortably accommodated in well-appointed hotel rooms and suites from where magnificent views over the ocean and the mountains can be enjoyed. Outdoor swimming pools, conference venues, an exclusive health and beauty spa, restaurants, a popular bar, and many other facilities make this hotel a wonderful getaway destination.
Accommodation
The hotel has a big selection of rooms, the most popular being the Superior Sea View room and the Sea-Facing Suites. However, the rooms with a mountain view are equally nice.
Room types:
Classic Rooms
Mountain-Facing Rooms
Luxury Rooms
Superior Sea-Facing Rooms
Mountain-Facing Suites
Sea-facing Suites
Presidential Suite
Offering modern finishes and convenient amenities, the luxuriously appointed hotel rooms and suites at this five-star Resort Hotel in Camps Bay have been individually decorated in various themes, including nautical, shell, African, and natural fabrics and tones.
Hotel room amenities:
Tea and coffee making facilities
DVD players and DVD library
Fully stocked mini-bar
Built-in international adapters
Individual air conditioning and overhead fans
Hair dryers
In-room business amenities:
High-speed Internet
2 individual telephone lines
Generous desk space, Internet access
Laptop rental, personal fax/copier/scanner
Mobile telephones for hire
Office supplies and stationary
Secretarial support on request
The spacious suites and 'business-ready' rooms at the 12A offer ample desktop working space to the corporate traveler, complete with stationery drawers and fax, copy and scanner printers.
Facilities
The hotel provides exclusive facilities for guests to enjoy during their stay in Cape Town. Garden and rock swimming pools with cascading waterfalls, mountain picnic trails, restaurants, the Leopard Bar and Lounge, a 16-seater cinema, a health and beauty spa, and a conference centre are only some of the available facilities.
WiFi and Internet access
Hydrotherapy pools and floatation tank
Hammocks and picnic sites
Mountain walking trails
Azure Restaurant
16-seater cinema
Children's toys and books
Helipad
Gym
Health and beauty spa
Swimming pools
Bar and lounge
Boutique
Parking garage
Health and Beauty Spa
The award-winning health and beauty spa at the hotel offers a pedicure and manicure salon, as well as two outdoor mountain gazebos, to integrate the natural surroundings into the wellness experience.
Spa facilities:
9 spa treatment rooms
Rasul Chamber: traditional Arabic cleansing ritual with steam and mud
2 Mountain Gazebos: outdoor spa treatments with ocean views
Tranquility lounge
Health bar with healthy, delicious meals
Plunge pools
Salt water floatation pool
Our Personal Opinion
Amazing views from the rooms and the restaurants. The Twelve Apostles hotel offers a very relaxing stay and the spa is exceptional. On sunny days, the terrace area is the ideal place for enjoying a gourmet meal.
rame width="449" height="315" src="http://www.youtube.com/embed/x7qibeQ2z4w" frameborder="0" allowfullscreen>
Services
Room Types
Room Amenities
Hotel Restaurants
Guests may choose to dine in the Azure restaurant with its magnificent sea views of the Atlantic Ocean, which has received the prestigious Chaîne des Rôtisseurs Blazon award, given to professional members such as an owner, manager or executive chef of a dining or hotel establishment maintaining a superb level of cuisine, service and hospitality, as required by the exacting standards of the Chaîne internationally. The Executive Chef is famous for his fynbos menu, will infuse your taste buds with organic ingredients chosen daily from the hotel's own herb garden and the local markets, depending on the season.
Savour the finest indigenous and international cuisine on offer in the popular Azure Restaurant. The Executive Chef, is on hand to create a variety of exquisite dishes including meat, seafood and vegetarian options. From the spicy entree of our Cape Malay pickled fish or the delicate fresh oysters followed by a butternut, baby marrow and morogo lasagne or the grilled kingklip served with sautéed brown rice and chives with a roasted fennel sauce, your taste buds will be infused by the finest of organic ingredients.
Azure is the first to introduce Fynbos cooking - utilizing this natural wild vegetation from our gardens and rounded off with a delightfully sweet dessert of fynbos honey bavarois or Bea's baked cheesecake.

The Azure restaurant serves breakfast, lunch and dinner. Guests may also care to sample from a selection of wines through dinner.
The international gastronomic association 'Chaîne des Rôtisseurs' has presented the Azure fine dining restaurant with a blazon.

Guests may enjoy breathtaking sundowners from the comfort of the Leopard Bar at hotel & Spa in Camps Bay, Cape Town. The hotel's head barman keeps a wide range of vodkas and ports, and will create cocktails using your own favourite ingredients, or you can have Tea by the Sea with all the trimmings, an event of such magnificence that it's become a local tradition.

The perfect place to relax with friends, family and colleagues whilst enjoying live entertainment during certain evenings of the week. Proven to be an extremely popular place to be for the locals as well as guests, the hotel offers a fully stocked bar featuring many varieties of Martini and a selection of the latest trendy flavoured vodkas.
A fine selection of cognacs and an impressive collection of ports are available, as is a wide selection of cocktails including the fashionable "Cosmo" and Vanilla Chocatini; a martini made with Stolichnaya vanilla vodka and white crème de cacao, garnished with a chocolate flake and maraschino cherry.

The Leopard Bar at 12A hotel, is also a great spot to enjoy "Tea by the Sea", a delicious afternoon tea with all the trimmings including chocolate brownies, cream scones, finger sandwiches and a selection of the best teas and coffee make something of an institution with the locals.
For lighter fare, guests may try The Cafe Grill, serving a choice of delicious fresh salads, light snacks, grilled meat and fish. The al fresco styled eaterie offers a casual and relaxed dining experience and enjoys fabulous sweeping views of the mountain range framed by the natural beauty of the indigenous flora.

Its flexible menu and 24 hour access means guests can enjoy a California styled menu at any hour, including a breakfast at any time of the day. Enjoy anything from tasty salads and sandwiches to the most honest hamburger in Cape Town or a piece of grilled fish caught fresh on the day. During summer we offer an extensive ice cream menu and fresh fruits and in winter an equally appealing potjie selection.
Hotel Spa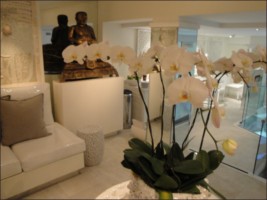 The Spa at The Twelve Apostles Hotel & Spa, Camps Bay / Cape Town
Nature brings with it life and beauty and at the exclusive health and beauty spa. The wellness center has embraced the healing energies of earth, air and water to rejuvenate the mind, body and soul.

Sublime spa treatment packages that utilise the Elemis International Spa Range, are available in the hotel's nine treatment rooms and guests have the unique opportunity to experience Cape Town's only Rasul chamber, a sauna and hydrotherapy bath, for something a little different. Two outdoor Gazebos are available for outdoor treatments, allowing guests the chance to enjoy the natural beauty of this stunning part of the world.
Spa facilities and services
Cape Town's only Rasul Chamber
Brine pool and hot and cold plunge pools
6 dry and 1 wet treatment rooms
Sauna and Hydrotherapy Bath
Swedish massage, reflexology and hydrotherapy
Body wraps, fynbos exfoliation, manicures and pedicures
Indigenous plant extract treatments
Dual treatments and specially tailored packages
Two secluded mountain gazebos allow patrons the opportunity to experience outdoor therapies
Spa treatments
The Spa at the Twelve Apostles Hotel, Camps Bay, is a magical oasis of tranquillity where guests can enjoy all kinds of treatments and therapies to relax, replenish and invigorate.
The spa offers seven treatment rooms where visitors are pampered with a range of treatments including many based on the indigenous fynbos flora or treatment packages. Guests may opt for a secluded open-air treatment in a shady gazebo allowing them the chance the enjoy the natural beauty of this stunning part of the world.
Activities / Sports and Leisure
Conferences and Events
Facilities
Twelve Apostles Hotel & Spa Specials & Packages
Directions
Driving directions to the Twelve Apostles Hotel from the Cape Town International Airport
30.0 km / about 35 mins

1. Head southeast toward Drop Off Rte 400 m
2. Continue straight onto Ring 150 m
3. Slight right to stay on Ring 92 m
4. Slight left to stay on Ring 400 m
5. Continue onto Airport Approach Rd 1.4 km
6. Continue onto Settlers Way 550 m
7. Take the ramp onto Settlers Way/N2 10.5 km
8. Take the exit onto N2 4.1 km
9. Exit onto Eastern Blvd 550 m
10. Continue onto Strand St 1.2 km
11. Turn left at Buitengracht St/M62
Continue to follow M62
Entering toll zone in 2.5 km at Firdale Rd
Leaving toll zone in 4.6 km at Geneva Dr
Go through 1 roundabout 7.0 km
12. Turn left at Houghton Rd 500 m
13. Turn left at Victoria Rd/M6
Entering toll zone in 600 m
Destination will be on the left 3.3 km

Twelve Apostles Hotel & Spa
Victoria Road, Camps Bay, Cape Town, Western Cape, South Africa
Accreditations