Hilton Windhoek
Hilton Windhoek 1
Hilton Windhoek 2
Hilton Windhoek 3
Hilton Windhoek 4
Hilton Windhoek 5
Hilton Windhoek 6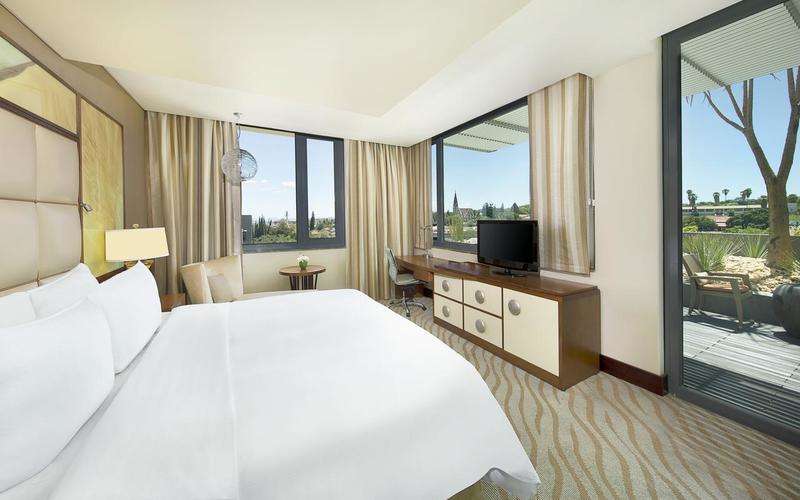 Hilton Windhoek 7
Hilton Windhoek 8
Hilton Windhoek 9
Hilton Windhoek 10
Hilton Windhoek 11
Hilton Windhoek 12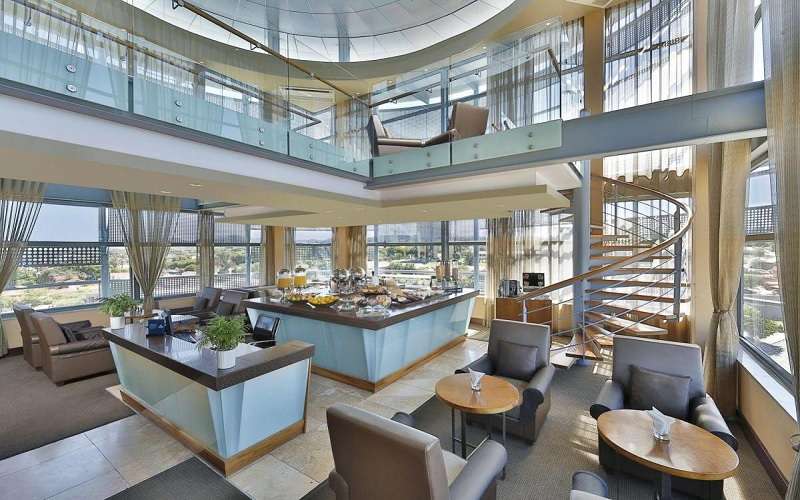 Hilton Windhoek 13
Hilton Windhoek 14
Hilton Windhoek 15
Hilton Windhoek 16
Hilton Windhoek 17
Hilton Windhoek 19
Hilton Windhoek 21
Hilton Windhoek 22
Hilton Windhoek 23
Hilton Windhoek 25
Hilton Windhoek Reviews & Information
Use the drop down below to find out more information about Hilton Windhoek.
In the heart of Namibia's capital city, Windhoek, lies the spectacular new Hilton Windhoek, the first Hilton Hotel in Namibia, Southern Africa. Windhoek, the largest town in Namibia, is a magnificent destination situated on a sloping plain on the northern side of the Khomas Highland plateau.
The city hosts the headquarters of many national enterprises and has two airports. Located in the heart of the Windhoek CBD and surrounded by historical and cultural places around the city, the hotel is ideal for business travellers as well as Eco and cultural tourists.
Accommodation
The hotel offers guests a range of comfortable accommodation including a presidential suite, five suites, five king executive guest rooms, nine deluxe king rooms, 23 executive rooms, 13 double rooms and 99 king rooms.
Room types are:
124 King Rooms
13 Double/Double Rooms
8 Executive Rooms
4 Junior Suites
1 Presidential Suite
Hotel room Amenities and Services:
Bathroom amenities and hairdryer
High-speed Internet access
Safe box
Minibar
Dining
Lounge, Coffee Shop
All day dining restaurant
Bar & Terrace
Wine Bar
Rooftop Bar
Room Service
Spa & Wellness Center
Services and Facilities
Guests have the choice of onsite leisure facilities and dining options including a heated lap pool with sundeck, wellness centre with two treatment rooms and a 24-hour Hilton Fitness by Precor gym, all of which are located on the rooftop with spectacular views of the city.
Services and facilities:
Concierge
Doctor on call
Laundry
ATM cash machine
On-Site Leisure Facilities: swimming pool and Spa
Meeting Rooms
Executive Floor Lounge
Location and History
The languages that are spoken in Namibia are; English, Afrikaans, German, Oshivambo, Portuguese, Setswana, Otjiherero, and Khoekhoegowab. Namibia is known as a semi-arid climatic region. It is situated in the Southern Hemisphere; rainfall occurs primarily in the summer from January to March. The calmest months are March and April. August and September are the windiest. June through August is almost cloudless.

The hotel is situated in an ideal downtown location by the city's main square. It radiates pure opulence with impressive facilities and services. The hotel is located in the heart of Windhoek on the main square and facing Namibia's Supreme Court. This Hotel was publicly opened by the President of Namibia, Mr Hifikepunye Pohamba and this 150-room property is located in the heart of the CBD close to Freedom Square and just 20 minutes away from Hosea Kutako International Airport. The group that operates this Hotel is called the United Africa Group.
Nearby Leisure Facilities
Casino
Retail shopping arcade
Horseback riding
Cheetah Conservation Park (2 - hour drive)
Namib Rand Natural Reserve (4 - hour drive)
Namib Desert (3 - hour drive)
Church of Christuskirche
Katatura Township Historical Village
The Desert Express (luxury train)
Conferences
Business travellers can make use of a selection of meeting rooms including a boardroom which can accommodate up to 200 additional guests as well as breakout areas suitable for tea and coffee breaks.
Other Hilton Worldwide Hotels & Resorts in Africa
The Hilton Hotel Group has several more prestigious hotels located on the African continent which is, amongst others, the following:
Hilton Addis Ababa, Ethiopia
Hilton Durban, South Africa
Hilton Nairobi, Kenya
Hilton Sandton, South Africa
Hilton Cape Town City Center, South Africa
Hilton Yaounde, Cameroon
Transcorp Hilton Abuja, Nigeria
Doubletree by Hilton Dar Es Salaam, Oyster Bay, Tanzania
Doubletree by Hilton Resort Zanzibar, Nungwi, Tanzania
Below detailed information about the Hilton Windhoek is available.
For any queries regarding this hotel, you are welcome to contact us.
Available Rooms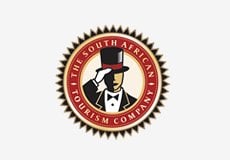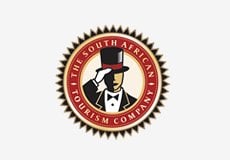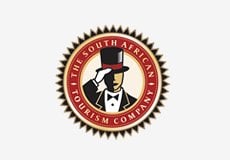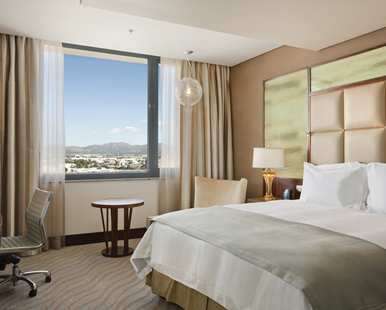 These elegant guest rooms are 35 square meters in size and offer two double beds in the one room making them ideal for families.
Double Double Guestroom features:
Air conditioning
In room movie channel
LCD flat panel TV
Separate bathtub and shower
Bathroom amenities
Hairdryer
Coffee maker
Work desk
High speed Internet access
Internet access in guest room
Safe.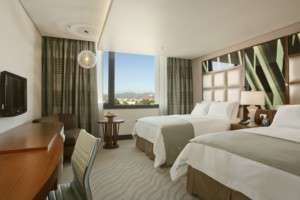 King Executive Room with Garden
Work is easy in this spacious contemporary designed 35sq m/377sq ft rooms with king size bed. Catch up on work at the desk, surf the web with high-speed internet access with cable and WiFi or re-energize in the stylish bathrooms with separate rain showers. Enjoy an amazing 180 degree view of Windhoek from the Executive Lounge with full floor to ceiling windows.
King Executive Room with Garden features:
Air conditioning
In room movie channel
LCD flat panel TV
Separate bathtub and shower
Bathroom amenities
Hairdryer
Coffee maker
Work desk
High speed Internet access
Internet access in guest room
Safe.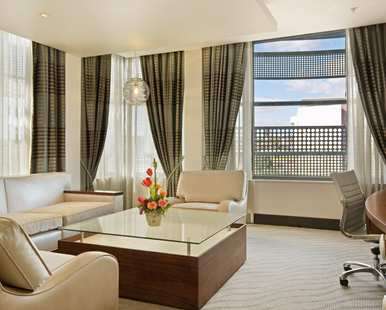 This 85 square meter room features magnificent views of Windhoek city centre. The room offers a luxurious space with contemporary African décor and a king size bed in the room as well as an elegant chaise lounge. The room also offers a work space for business travellers to make use of as well as a large bathroom with separate shower. A roll-away bed can be placed in the lounge area for guests with children. Along with all the standard room amenities, guests staying in this suite have access to the hotel's executive lounge with its all day free snacks and beverages.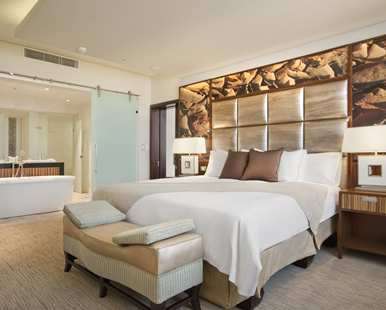 The luxurious King Presidential Suite is a massive 105 square metres in size and is warmly decorated to create a home away from home. Along with a spacious bedroom with a king size red the suite also offers a separate living and dining area as well as a kitchenette. Guests can relax on the chaise lounge while watching TV while a roll-away bed can also be placed in the lounge for little ones. The suite offers all the amenities of the other room types as well as complimentary access to the hotel's executive lounge with free sweet and savory snacks and a selection of refreshments.
Hilton Windhoek Specials
The specials listed below will automatically be offered to you when proceeding through the booking process.
Guest Reviews
Your review has been submitted
Thank you for submitting your review. Our team will check your review and be in touch should we have any questions.
An error was found. Please correct and submit again.
Share your personal review with us of your stay at this property.
---
GPS Co-Ordinates
Latitude: -22.570330
Longitude: 17.085583
A car rental service is available. To receive a quote or arrange car rental booking, please click the button below.
Book Car Rental
Star Rating
5 Star
Hotel Group(s)
Convert multiple currencies