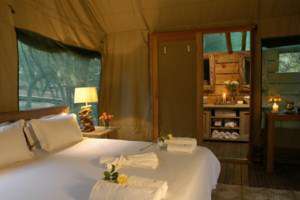 Safari-style Lodge tents
Slightly upstream from the spa, the luxuriously appointed safari-style Lodge tents at the Summerfields Country House are positioned beneath a canopy of jackalberry and tambotie trees. The exclusive tents feature bathrooms, which open to the cascading sounds of the river. Inside the tents, air-conditioning is available while high thread count percale cotton sheets and bedside i-pods lend contemporary comfort to its guests.
Stone House
The Summerfields Rose Retreat and Spa also features the Stone House, an organic rendition of earthy tones and materials from where beautiful views of the surrounding wilds can be enjoyed. Ideal for the smaller group or family traveler, the Stone House's three rooms sleep six and children of all ages are welcome.
Villa
The ultra luxurious and brand new Villa provides the ultimate in terms of luxury in South Africa's Lowveld. Set on a plateau with breathtaking 360-degree views, the exclusive Summerfields Villa presents luxury and absolute privacy. Guests have at their disposal a butler and chef, as well as a dedicated vehicle and driver. Facilities of the Summerfields Villa at the Rose Retreat include a private swimming pool, gym and a personal therapist. Accommodating six guests in three rooms and welcoming children over the age of 16, this unique accommodation option ensures an unforgettable stay.
Facilities available in the suites:
Hairdryers
Room Butlers
Large bath sheets
Bath gowns
A selection of current magazines
Tea and coffee making facilities
Home baked biscuits
Range of quality toiletries
An electronic safe to accommodate bigger items like laptops and camera
Private fridge
Air-conditioning
Roof fans
iPods with playlists to accommodate all tastes