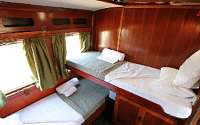 Good Hope Golf Tour
15 days
This 15 day tour is also available in reverse, beginning in Pretoria and ending in Cape Town.
Cape Town to Pretoria or reverse:
Day 1: Cape Town tour, train departs
Day 2: Drive to Hermanus over scenic mountain passes
Day 3: Knysna visit and Fancourt dinner, play Ernie Els Oubaai golf course
Day 4: Cango Caves and ostrich farm visit, Play Fancourt golf course
Day 5: Graaff Reinet walking tour
Day 6: Kimberley tour, play Kimberley golf course
Day 7: Bloemfontein tour
Day 8: Battlefields tour / play Champagne Sports Resort golf course
Day 9: Durban tour, play Durban golf course
Day 10: St Lucia Wetland Park, Dumazula Village tour
Day 11: Hluhluwe game drive
Day 12: Swaziland tour, play Nkonyeni golf course
Day 13: Kruger National Park game drive, play Leopard Creek golf course, Nelspruit or White River golf course
Day 14: Panorama Route
Day 15: Arrive in Pretoria, tour of Soweto and Pretoria / Johannesburg.
Tour dates departing from Pretoria:
18. August 2016 (Pretoria) - 1. September 2016 (Cape Town)
18. September 2017 (Pretoria) - 2. October 2017 (Cape Town)
Tour dates departing from Cape Town:
28. March 2016 (Cape Town) - 11. April 2016 (Pretoria).