Hunters Country House Reviews & Information
Use the drop down below to find out more information about Hunters Country House.
Below detailed information about the Hunters Country House is available.
For any queries regarding this hotel, you are welcome to contact us.
Restaurants
Dining
Dining at this Hotel has become one of the must dos of the Garden Route. The welcoming Grand Old Homestead is decorated with opulent fabrics and sparkling chandeliers while rolling gardens flank the Hunter's Country House. The gourmet menu changes weekly, allowing the chef to make use of fresh, seasonal ingredients. International trends and combined with traditional South African dishes to create meals that are full of flavour. The Hotel has been awarded the Diners Club Platinum Award in 2006, 2007 and 2008 and the Achievement award for consistently remaining in the Top 10 restaurants of the Garden Route.
The Conservatory
This Restaurant is set in a sunny glasshouse. This exquisite location is where guests can enjoy breakfasts of sliced fruit and an abundant hot buffet.
Picnic
The picnics are guaranteed to be full of flavor while picture-perfect presentation is also ensured. Guests can enjoy a packed lunch on a hike in the surrounding area or a more formal spread set among the spring flowers. Picnics are prepared in advance upon request.
Spa
Spa Facilities
Spa treatments include:
Aromatherapy Massages - A rhythmic massage with essential oils. This gentle treatment is ideal for relaxation.
Holistic Massages - This massage manipulates the soft tissues of the body, encouraging the release of tension from the muscular and nervous systems.
Hot Stone Massages - Volcanic stones are used to release tissue fluids, stimulating circulation and releasing tight, contracted muscles.
Reflexology - This massage pinpoints certain reflex points on the feet. Energy flow is restored, allowing the body to heal properly.
Shiatsu - Assisted-stretching techniques stimulate circulation. Shiatsu releases toxins and tension, allowing deep relaxation.
Indian Head & Shoulder Massages - This treatment focuses on the upper back, shoulders, neck, scalp and face. This treatment also helps strengthen the hair.
Activities, Sports & Leisure
Nearby activities & attractions
Keurbooms River Ferries - A houseboat trip up the Keurbooms River gorge.
Ocean Blue Adventures - Marine encounters where guests are likely to see whales, dolphins and seals.
African Ramble - Scenic small aircraft flights over Tsitsikamma forest and the coastline.
Treetop Canopy Tours - Zip-lining through a canopy of trees in the Tsitsikamma forest.
Quad biking rides
Horse riding
Monkeyland - A free-roaming primate sanctuary.
Birds of Eden - A free flight aviary which is set in an indigenous forest with waterfalls and elevated walkways.
Elephant Sanctuary - Guests can interact, touch, feed and walk with the elephants.
Forest walks
Guests can indulge in relaxing forest walks. An abundance of bird life and a variety of indigenous fauna and flora can be found in the forest surrounding the lodge.
Swimming
The Hotel offers an outdoor swimming pool for guests to enjoy.
Spa treatments
Aromatherapy Massages
Holistic Massages
Hot Stone Massages
Reflexology
Shiatsu
Indian Head & Shoulder Massages
Conferences & Events
Boardroom
The Boardroom can accommodate a maximum of 12 delegates.
Conference equipment includes:
Data Projector
Screen
Computer
Flip Chart
Services
Check in and Check Out Times
Check in: 14:00
Check out: 10:00
Business Services
General Services
Airport transfers
Babysitting
Concierge services
Housekeeping service
Internet connection
Kid's entertainment
Laundry services
Massage treatments
Porters
Tours & Transfers on Request
Wake-up call
Wellness & Beauty treatments
Available Rooms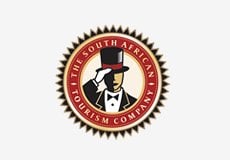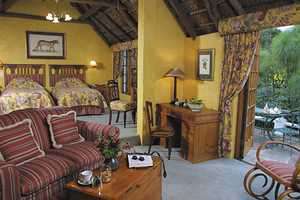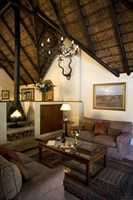 Eight thatched Garden Cottages are available at the Hunter's Country House near Plettenberg Bay. Each cottage is privately positioned in the gorgeous country gardens. Plush fabrics decorate the interior of each Garden Cottage in a calming color palette of neutral tones.
Garden Cottage features include:
Fireplace
Air-conditioning
Mini bar
Tea and coffee making facilities
Hairdryer
En-suite bathroom with separate bath and shower
A garden patio with table and chairs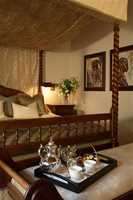 These Suites offers a lounge and dining area, large flat-screen TV and a stone patio.
De Luxe Pool Suites features include:
Fireplace
Air-conditioning
Mini bar
Tea and coffee making facilities
Hairdryer
En-suite bathroom with separate bath and shower
A garden patio with table and chairs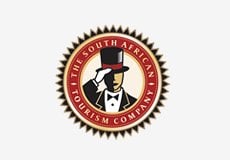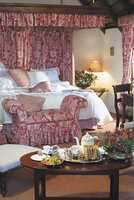 The two Garden Family Suites feature a main entrance hall, dining room, lounge with sleeper sofa, television and DVD player, a children's bathroom, wardrobe and room for an additional single bed.
Garden Family Suites feature:
Fireplace
Air-conditioning
Mini bar
Tea and coffee making facilities
Hairdryer
En-suite bathroom with separate bath and shower
A garden patio with table and chairs
Star Rating
5 Star
Memberships
Hotel Group(s)