Black Rhino Game Lodge Reviews & Information
Use the drop down below to find out more information about Black Rhino Game Lodge.
Below detailed information about the Black Rhino Game Lodge is available.
For any queries regarding this hotel, you are welcome to contact us.
Restaurants
Dining at the Black Rhino Lodge
The chef at the Black Rhino Game Lodge caters for all exquisite meals in an atmospheric restaurant. Both the bar and the restaurant open out onto the viewing deck making one feel being close to nature.
Activities, Sports & Leisure
Bird watching
The bird life found in the Black Rhino Game Reserve and the Pilanesberg National Park is outstanding. While some birds are migrants, many are permanent inhabitants of this region. Their food sources vary with some eating carrion or live prey while others eat seeds, fruit or tiny water organisms.
The Pilanesberg National Park is one of the best places for birding in South Africa. Over 350 species have been recorded here, and a birder could record up to 100 species in winter and plenty more in summer including both migrant and permanent species.
The transition zone between the dry Kalahari and the wetter lowveld region in this region of South Africa brings with it a unique mix of birds with Red-eyed Bulbus co-habiting with Black-eyed Bulbuls. Many other such fascinating habitations are visible throughout the game reserve, but it isn't limited to only bird species but also to other animals and plants.
Visit to the Sun City Resort
Sun City Casino & Entertainment Centre
The Palace of the Lost City Hotel
Cascades Hotel
Sun City Hotel
Cabanas Hotel
Valley of Waves: water park
Health & Beauty Spa
Gary Player Golf Course
Lost City Golf Course
Bird Aviary
Farmyard animals
Kamp Kwena.
Hot Air Balloon Safari
The Hot Air Balloon Safaris are offered every morning, depending on the weather and number of passengers. Guest are collected at their game lodge and are taken to the park to meet with the balloon crew.
The flight is approximately an hour in duration and on landing sparkling wine is served. A leisurely game drive is then taken through the park to a game lodge where breakfast is served, after which guest are returned to their hotel/game lodge.
Flights are early in the morning, and you will need to allow some 4 hours for the full activity which includes the following:
 Early morning collection from your hotel by safari vehicle
 Launch of the balloon from the centre of Pilanesberg National Park
 An hour drifting serenely over the Park
 A sparkling wine celebration on landing, a time-honoured tradition in ballooning
 A Full English breakfast at a Game Lodge
 A First Flight certificate signed by your Pilot
 Return transfer to your hotel/game lodge
Terms and Conditions: Hot Air Balloon Safaris
 1-hour flight: Minimum 8 passengers / Maximum 60 pax (1-hour flight)
 30-minute flight: Minimum 20 / Maximum 120 pax (½ hour flight)
 No children under the age of 12 can take part
 Full prepayment is required before the trip takes place.
Elephant Back Safaris
Pick up from the Gametrackers Outdoor Adventures desk located at the Welcome Centre. Transfer to "The Elephant Wallow" will be approximately 20 minutes through the Letsatsing Game Reserve giving guests an opportunity to view game along the way.
On arrival, welcome drinks are served, and guests are given an introductory talk and introduced to the elephants and their handlers.The elephants are then saddled, and the safari commences.
After approximately an hour on the elephant, back guests return to "The Elephant Wallow" for light snacks. Guests are returned to the Welcome Centre, Sun City.

 Duration: approximately 2-3 hours
 Maximum 10 people – children under five years can unfortunately not participate
 Pick up and drop off is the Welcome Centre at the Sun City Resort.
Elephant Back Safaris:
 Sunrise Elephant Back Safari
 Mid Morning Elephant Back Safari
 Sunset Elephant Back Safari.
Game drives
On many occasions, the stillness of the night here is broken by the roaring of lions and the Franklins sing the morning wake up call. Early in the morning, guests may enjoy a cup of coffee followed by an adventurous game drive with professional guides.
The game drives take guests through the Black Rhino Reserve into the unexplored valley of the Pilanesberg until the 200km network Pilanesberg Park roads are reached.
Game sightings include a variety of predators such as lion, leopard, buffalo, rhino and cheetah. Herds of elephant are often seen within proximity making for an unforgettable experience. Antelope such as sable, kudu and eland roam the bush freely. The game and bird viewing opportunities in this region of South Africa are truly incredible.
Swimming
The Black Rhino Game Lodge provides a lovely outdoor swimming pool with a sun deck.
Services
Check in and Check Out Times
Check in: 0:00
Check out: 0:00
General Services
Airport transfers
Concierge services
Housekeeping service
Luggage storage
Safari drives
Tours & Transfers on Request
Wake-up call
Children Policy
All children are welcome at the Black Rhino Game Lodge in the Pilanesberg National Park.

Children policy in regards to game drives:

Children under six years are not allowed to take part in the game drives.
Kids between 6 - 11 years of age can go on game drives at the discretion of the lodge management.
Available Rooms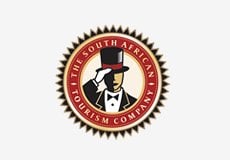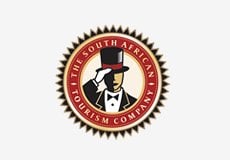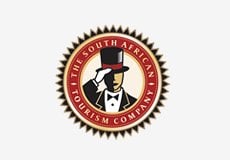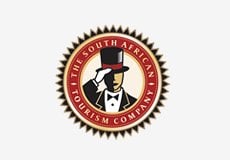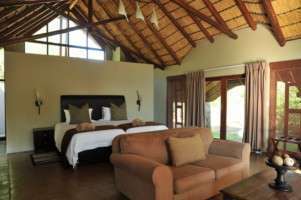 The Luxury Suites at Pilanesberg's Black Rhino Lodge are very private and feature a mini bar, air conditioner, hot beverage unit and television.
The patio doors open out into the bush from where herds of impala or a lone elephant walking by can be observed. The designer bathrooms open out into an own private outside shower which is perfect to cool down on a hot day.


Star Rating
4 Star
Hotel Group(s)