Four Seasons Hotel The Westcliff

Rating:

Hotel Type:

Business, Spa, Family, Conference, Penthouses & Presidential Suites, Leisure

Address:

67 Jan Smuts Avenue
Westcliff
Johannesburg 2193
Gauteng
South Africa
Overview
The five star Four Seasons Hotel The Westcliff Johannesburg in Gauteng, South Africa, nestles in beautifully manicured gardens on a sloping hill from where magnificent views over Johannesburg's most prestigous suburbs can be admired. This luxurious hotel offers the ideal base for discerning leisure and business travellers to South Africa.

The Hotel can easily been reached from both the Johannesburg city centre, Sandton as well as the OR Tambo Johannesburg International Airport. It is also located within a short drive from several restaurants, cafes and bars, shopping malls, business centres, historical monuments as well as sporting facilities.
Accommodation
The five star establishment features 80 well appointed hotel rooms and 35 spacious suites. Each of the hotel's elegant rooms and suites are air-conditioned offering modern and sophisticated decor.
An extra bed for an additional guests or child can be arranged in one the following room categories: Junior Suite, Studio Suite, Luxury Suite, Presidential Suite.
Hotel room features:
satellite TV with VCR
alarm clock radio
towel heater
international electrical sockets 220 volts & 110 volts
fax machine
digital safe
high speed internet access
butler station with minibar
24 hour room service.
Wining and Dining
Guests are spoilt for choice with several informal and formal dining venues. The hotel's fine-dining La Belle Terrasse serves gourmet international cuisine while the Conservatory is suitable for casual dining and the famous, lavish high tea. The exclusive Polo Lounge welcomes guests for a drink in a cosy environment.
Child Policy
Children of all ages are welcome and convenient services and facilities ensure a comfortable and enjoyable stay for everyone. Babysitting services can be arranged while baby cots, baby toiletries, a bottle warmer, fresh milk, children dressing gowns, children movies and in room dining with a specially designed children's menu are available.
Activities for children at the hotel:
tennis
swimming in the heated swimming pool (all year round).
Nearby children attractions:
The Johannesburg Zoo
Montecasino Bird Gardens
Golf Reef City Theme Park
Ice skating at the Northgate Ice Arena
Star gazing at the Johannesburg Planetarium
Lipizzaners Show.
The Four Seasons Spa Westcliff
Guests are offered a wide range of relaxing health and beauty spa treatments as well as holistic therapies. Popular spa treatments include Aroma, Swedish, Hot Stone and Kuhuna back massages and the Glowing Radiance Facial.
Facilities and Activities
In addition to two private plunge-pools, there are two heated horizon swimming pools, the most popular being the infinity pool which is located on the Pool Terrace from where beautiful views of the Johannesburg Zoological Gardens can be enjoyed.
Furthermore, an outdoor, all-weather tennis court is available for those who like to work up a sweat in a game. A gymnasium is available on-site and personal trainers can be arranged for guests. Guests may rent mountain bikes during their stay while many walking and running trails can be found in the surrounding area of the hotel.
Activities:
swimming
tennis
gym
jogging and cycling.
Nearby golf courses:
Wanderers Golf Club
Houghton Golf Club
Parkview Golf Club
Royal Johannesburg Golf Club
Kensington Golf Club.
Conferences
The hotel is set adjacent to the Jacaranda Hill Conference Centre. Additionally, some of the hotel rooms at the hotel itself can be converted into private meeting and dining rooms for guests. The hotel's inviting swimming pool deck offers the ideal place to enjoy informal cocktail functions.
Services
Room Types
Room Amenities
Air Conditioning
Bar Fridges in Room
Bathrobe
Ceiling Fan
DVD player
En-suite / private bathroom
Fireplace
Hairdryer
Heated towel rails
Heater in Room
Housekeeping
In room safe
Internet Access
Iron and ironing board
Mini bar
Modem Access
Radio
Safe
Satellite TV
Slippers
Tea and coffee making facilities
Telephone
Writing desk
Hotel Restaurants
Hotel Spa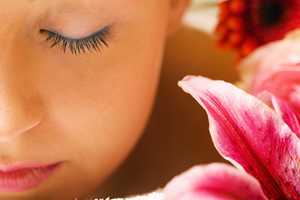 Tucked away amidst cascading gardens and delightful fountains lies The Four Seasons Spa Westcliff an inviting oasis of indulgence and relaxation.
Three beautifully spacious hotel suites have been converted into calming treatment rooms with en-suite bathrooms and changing areas, where skincare specialists offer an all-encompassing selection of facial and body treatments, using the elite range of Pevonia Botanica products.
The menu offers several specialised facial and eye treatments, massages to treat each and every tight and aching muscle in your body - Kahuna, Deep Tissue, Aromatherapy, Reflexology, Hot Stone and Anti-Cellulite, as well as the customised Botanica Spa Suites Cloud Nine Ritual. Intriguing and exotic body wraps include the Seaweed Envelope and the Moor Mud Body Mask.
Spa treatment menu
The Botanical Spa Suites mix the contemporary with the traditional. Swedish massages alongside natural mineral infused treatments and the therapists are confident that guests leave the botanical spa relaxed and invigorated.

Body Treatments
Soothe and rejuvenate tired limbs with our aromatherapy exfoliation drift away as our trained masseurs perform a full Swedish massage or stimulate your body with our Arizona Heat Treatment enriched with copper, magnesium and zinc.
Specialised Treatments
Explore our range of special African inspired treatments designed to soothe body and mind.
Facial Treatments
Your face needs extra special care and attention, and our intensive nourishing treatments work wonders to make your skin is as vibrant and beautiful as you feel.
Skin Wraps
Treat your skin to a relaxing range of treatments designed to increase circulation and leave you feeling rejuvenated.
Hands & Feet
Treat your hands and feet to the care they deserve with a range of moisturising, polishing and other beauty treatments.
Botanica Spa Packages
Explore the range of spa packages designed to give cleanse, tone and hydrate your skin, leaving guests feeling relaxed and restored.
Send an Enquiry
Activities / Sports and Leisure
Conferences and Events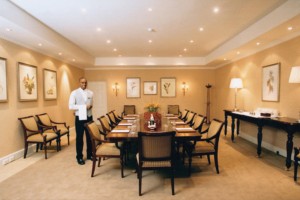 From gala banquets and weddings to conferences and business meetings, the Four Seasons Hotel The Westcliff Johannesburg dedicated conference department is on hand to make sure events turn into unforgettable and successful events.
The function rooms are equipped to handle a range of special events from the Jacaranda Hill Conference Centre which can hold 120 people for a banquet or up to 200 people in a splendid cocktail reception, to the intimate private rooms perfect for an intimate dinner.
Jacaranda Hill Conference Centre at the Four Seasons Hotel The Westcliff Johannesburg
Jacaranda Hill is a self-contained, multi-tiered building with its own state-of-the-art catering facilities. Designed to accommodate an executive conference or gala dinner for 120 people, a directors' board meeting or an intimate dinner for ten, Jacaranda Hill boasts the leading edge business and catering technology.
In addition to a ramp, allowing for vehicle access to the ballroom perfect for motor launches and spectacular entertainment, the conference centre features state-of-the-art audio visual and IT equipment alongside elegant interior finishes and furnishings created by interior designer Graham Viney.
The Conference Centre has been strategically positioned next to the hotel's Business Wing, where visiting conference delegates have full access to the executive services provided by the fully-equipped Business Centre.
Send an Enquiry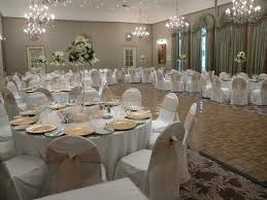 Function Rooms at The Four Seasons Hotel The Westcliff Johannesburg
The Four Seasons Hotel The Westcliff Johannesburg features a range of function rooms, from the Jacaranda Hill conference centre, to the intimate luxury of the Orient dining room.
Sir Herbert Baker Suite
The elegant dining area is perfect larger banquets for wedding dinners.
Lutyens Dining Room
An intimate room Lutyens offers a private and intimate setting, perfect for a wedding breakfast or private banquet.
Orient Rooms
Ideal for small formal lunches, dinners or intimate private functions with a maximum capacity of 10 people.
The Boardroom
A private room perfect for meetings and business lunches.

The Loggia
Part of the main dining room, The Loggia is a light and airy space and can be hired out as a private function room during the day.
Send an Enquiry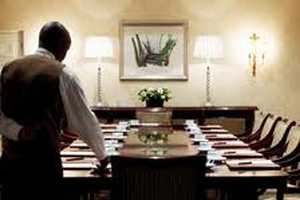 The Business Wing at The Four Seasons Hotel The Westcliff Johannesburg
The Four Seasons Hotel The Westcliff Johannesburg is situated within easy access of the OR Tambo Johannesburg International Airport and the business centres of Johannesburg and Sandton, while its landscaped gardens and Mediterranean village atmosphere ensure that guests are immersed in peace and tranquility.
The five star Four Seasons Hotel The Westcliff Johannesburg offers a special Business Wing with 30 fully equipped guest rooms, designed to cater specifically for business travellers. This facility offers an office away from the office with highly trained personnel and innovative IT Butlers dedicated to fulfilling business guests' every need.
The Business Centre Lounge is also located within the Business Wing, offering a full range of business services and facilities.
Send an Enquiry
Facilities
Bar
Boardroom Facilities
Business Centre
Childrens playground
Communication Centre with 24-hour complimentary Internet access
Conference venue
Day-use facilities for early arrivals and late departures
Garden
Gym
Indoor Heated Pool
Lounge
Nearby Casino
Nearby golf course
Outdoor patio
Parking
Private guest library/ lounge
Restaurant
Spa
Sun deck
Swimming Pool
Tennis court
Terrace
Travel desk
Undercover and surface parking
Wellness centre
Four Seasons Hotel The Westcliff Specials & Packages
Directions
From:
OR Tambo International Airport
Kempton Park, Johannesburg, South Africa

1. Head south 550 m
2. Take the 2nd right 350 m
3. Take the ramp to Albertina Sisulu Fwy/R24 220 m
4. Keep right at the fork to continue toward Albertina Sisulu Fwy/R24 and merge onto Albertina Sisulu Fwy/R24 8.3 km
5. Take the exit onto R24 1.7 km
6. Take the exit toward Eastern Bypass/N3 500 m
7. Keep right at the fork to continue toward Eastern Bypass/N3 and merge onto Eastern Bypass/N3 5.1 km
8. Take exit 119-Edenvale for R25 600 m
9. Turn left at Modderfontein Rd/R25 Continue to follow R25 6.6 km
10. Slight left at Louis Botha Ave/R25 120 m
11. Turn right at Louis Rd/R25 Continue to follow R25 5.1 km
12. Turn left at Jan Smuts Ave/M27 1.0 km
13. Turn right at Westcliff Dr/M16 90 m
14. Take the 1st left onto Woodview Rd 350 m
15. Take the 1st right Destination will be on the right 33 m

Four Seasons Hotel The Westcliff Johannesburg
67 Jan Smuts Avenue, Westcliff, Johannesburg, Gauteng, South Africa