Poste Lafayette Resort Mauritius

Rating:

Hotel Type:

Beach, Spa, Family, Leisure, Resort

Address:

Coastal Road
Poste Lafayette
North East Coast
Mauritius
Overview
The Centara Poste Lafayette Resort and Spa, Mauritius, provides the most amazing accommodation location to discover all the beauty that Mauritius has to offer. Situated amongst a range of breathtaking landscapes, along the beautiful white sandy beaches, this luxurious escape really is a little piece of resort heaven.
The resort has been designed in such a way as to incorporate the island's architectural heritage as it blends in with the beautiful shores and their crystal waters and the white sandy beaches as if it was just apart of the magnificent landscape. This little piece of accommodation heaven offers green lush gardens, pristine white sandy beaches, its own crystal clear lagoon and spectacular mountain ranges all located in close proximity to the hotel waiting to be explored.
It is situated in the beautiful east coast of Poste Lafayette, right along the coastal road and is only an hours drive away from the International Airport. The location of this spectacular beach resort provides guests with the perfect vantage point from which to view the island and the magic it has to offer.
Accommodation
The 100 spacious hotel rooms are situated amongst the resort's beautiful and lush gardens. The colours and decor which have been used are all inspired by the surrounding waters, landscapes and white sandy beaches.
The well-appointed hotel rooms vary in size and offer their own unique view of either the ocean, gardens or mountain ranges. This resort also offers rooms which can accommodate small families of 2 adults and 1 child. To add comfort, the rooms also provide a number of in-house amenities to add to an unforgettable beach holiday experience.
Wining and Dining
The Resort has a number of dining facilities available to satisfy every taste bud. The Aqua 180 serves simply styled finger food. Their menu consists of tapas, pizzas and mouth watering burgers to name but a few menu items.
Phi is the resort's Asian restaurant. With an Asian and Indian Ocean influence, the dishes offer a unique and delicious creative flair that is sure to be enjoyed by anyone that eats there.
The Cafe Nautilus is open from the early morning hours till late at night. This dining establishment serves breakfast, lunch and dinner in a buffet style of service. Guests may choose from a variety of mouthwatering dishes to satisfy even the largest of appetites.
Spa Treatments
This Resort strives to have its guests feeling relaxed and pampered during their stay at the resort. The resort features the SPA Cenvaree which offers a varied and extensive list of treatments and massages available to help guests relax, rejuvenate and de-stress.
Some of the treatments that are available at the spa include aromatherapy treatments, reflexology treatments, full body massages and facials to name but a few.
Available Activities
The resort offers a number of exciting activities. After relaxing at the swimming pool and on the beautiful beach, guests are welcome to partake in one of the resort's guest activities.
The activities available at the resort include:
Local cooking classes
Cocktail demonstrations
Volleyball
Chess
Domino games
Snorkeling
Kayaking
Rowing on the lagoon on a glass bottom boat.
Activities and tours which can be booked
The resort offers its own tourist information desk. The staff at this desk are able to give guests more information on what activities are available in the area and they can assist with the bookings of these activities and tours.
Some examples of tours and activities include:
bike tours
PADI diving course
diving trips.
Children's activities available
The resort caters for children too with a range of entertaining children's activities. Children can partake in the resort's children programmes and activities which are planned every day. Activities differ daily and children have the chance to enjoy fun in a safe environment with children their same age.
Services
Room Types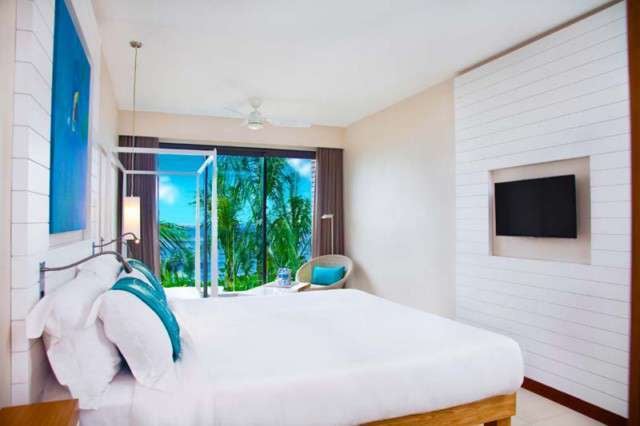 Mauritius Centara Poste Lafayette Resort and Spa has 36 Deluxe Ocean Facing Rooms. These well appointed hotel rooms are decorated with colors that have been inspired by the turquoise waters from the lagoon.
The Deluxe Ocean Facing Rooms can accommodate families which consist of two adults and one child. The Deluxe Room offers a sofa bed to accommodate the child.
Deluxe Ocean Facing Room features:
air-conditioning
balcony
mini-bar
safe
TV
selected satellitte channels
ceiling fan
hairdryer
wireless internet access
telephone.
Today's Rate
Single Room: €140.00
Double Room: €180.00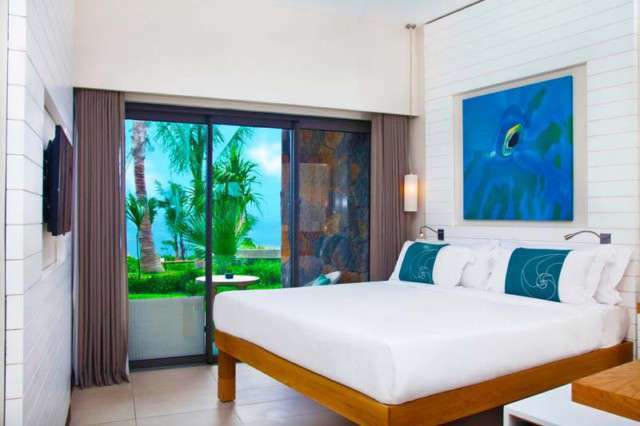 The Deluxe Garden Terrace Rooms at the Mauritius Poste Lafayette Resort & Spa are scattered around the beautiful resort gardens. These rooms offer simple decor and a smaller size with a minimalist comfort making it the perfect accommodation choice for couples travelling together.
Deluxe Garden Terrace features:
king bed
en-suite bathroom with shower
ceiling fan
air-conditioning
telephone
wireless internet
television
selected Satellite channels
hairdryer
safe
tea and coffee making facilities
mini bar.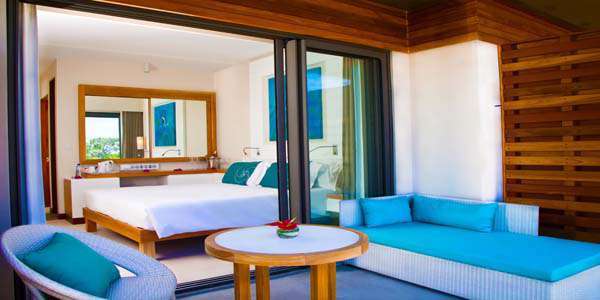 The 19 Deluxe Ocean Front Terrace Rooms at the Centara Poste Lafayette Resort & Spa Mauritius provide for the perfect couples retreat. The rooms offer right at their doorstep the sands and the spectacular palm trees for which Mauritius is famous for.
Deluxe Ocean Front Terrace:
rain shower in bathroom
air-conditioning
ceiling fan
TV
selected satellite channels
mini-bar
tea and coffee facilities
safe
wireless internet.
Room Amenities
Hotel Restaurants
The Café Nautilus at the Poste Lafayette Hotel in Mauritius offers international style meals in the form of delicious buffets. This restaurant is an open air thatch roofed establishment which reflects the tropical Mauritius resort feel. The Cafe Nautilus is open for breakfast in the morning, serves lunch and dinner and closes at 10pm.
Phi is an Asian inspired restaurant. This 80 seater restaurant at the Centara Poste Lafayette Resort in Mauritius offers delicious Asian and Indian Ocean inspired cuisine on their impressive and creative a la carte menu.
The Aqua 180 restaurant at the Centara Poste Lafayette Resort & Spa Mauritius serves tapas and finger foods. The restaurant at this Mauritius hotel can accommodate 52 diners at a single seating and is only a stone throw away from the waters edge.
Guests are able to choose items such as tapas, burgers and pizzas from the menu. This popular restaurant opens in the mornings and closes in the late evening.
Hotel Spa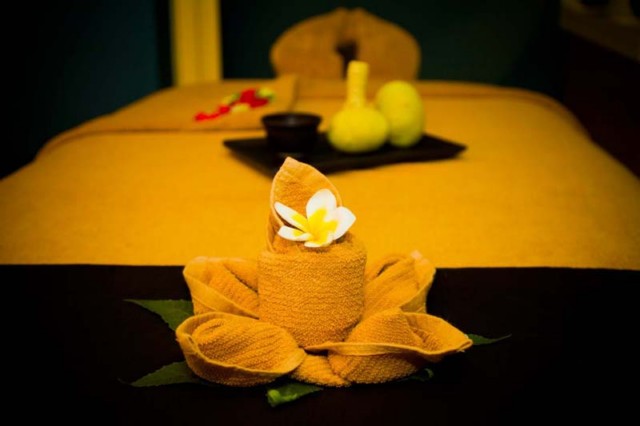 The Centara Poste Lafayette Resort and Spa Hotel in Mauritius offers the SPA Cenvaree. This health and beauty spa offers various specialized treatments to relax and get pampered while on holiday in Mauritius.
Available spa treatments include:
aromatherapy treatments
body exfoliation massages
massages
couples massages.
Activities / Sports and Leisure
Conferences and Events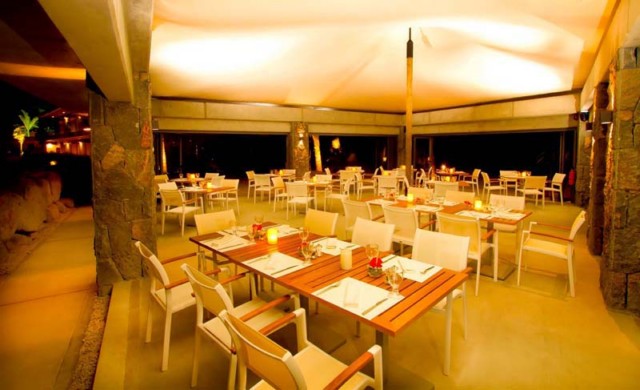 The luxurious Centara Poste Lafayette Resort in Mauritius features a small conference venue or boardroom which can accommodate up to 20 business delegates. With the beachfront right on the resort's door step, it provides the perfect setting for team building activities.
Send an Enquiry
Facilities
Poste Lafayette Resort Mauritius Specials & Packages
Directions