One&Only Cape Town

Rating:

Hotel Type:

Spa, Family, Conference, Leisure, Resort

Address:

1 Dock Road
V & A Waterfront
Cape Town 8001
South Africa
Popular Specials this Month
Enjoy a luxurious 8 night stay at the One&Only Cape Town Resort and only pay for 6 nights.... More

Enjoy a luxurious 4 night stay at the One&Only Cape Town Resort and only pay for 3 nights.... More

Enjoy a 15% discount on the suite rates at the One & Only Cape Town Resort & Spa.... More
View All Cape Town Specials
Overview
One&Only Cape Town is a 5 star hotel offering magnificent views of Table Mountain. The hotel is located in the heart of the famous Victoria & Alfred Waterfront. Guests staying at the hotel enjoy the close proximity to the ocean, the city, and the V&A Waterfront. The resort is famous for its exclusive private Spa Island.

The stylish island design and African flair is reflected in its architecture, islands, waterways, numerous bridges and the tropical gardens. The seven storey Marina Rise main building offers guests great views of Table Mountain and Signal Hill from its 93 spacious rooms and suites. The two landscaped islands offer 42 Island Suites, as well as the exclusive spa, which is a truly modern oasis.
Accommodation
The hotel features a total of 133 spacious rooms and suites, which are decorated with fashionable fabrics and exclusive furnishings. The selected warm colour tones of Africa's savannahs, combined with bright splashes of colour, offer a warm welcome and provide comfort for guests. The oversized baths are complete with a rain shower, a private water closet and a dual marble vanity.
The Marina Rise hotel rooms
Each of the 92 rooms and suites within the hotel feature large glass doors, which lead onto private balconies from where scenic views of the harbour and Table Mountain can be admired.
Room types at the Marina Rise:
78 Marina Rooms (63m²/678ft²)
4 Marina Suites (123m²/1323ft²)
7 Marina Grand Suites (155m²/1668ft²)
1 Table Mountain Suite (316m²/3401ft²)
1 Presidential Suite (383m²/4122ft²).
The Island hotel rooms and suites
Uniquely situated on an island that is surrounded by a waterway, each of the hotel's 40 Island rooms and suites offer a private balcony / terrace.
Island room types:
32 Island Junior Suites (73m²/785ft²)
4 Island Suites (115m²/1237ft²)
4 Island Grand Suites (254m²/2734ft²).
Hotel room features
Exclusive in design and furnished to appeal to discerning travellers, the hotel rooms are welcoming and provide a wonderful place for tranquillity and comfort. Serene lighting, calm music, as well as the finest bed and bath linens provide guests with the ultimate in luxury.
In-room multimedia entertainment system with satellite 42" flat screen television
Bose surround sound audio system
DVD/CD player
Mini-bar
Nespresso machine
In-room business services (multi adaptor, fax/computer hook-ups, three phones, two-line communication system)
MP3 docking station
WiFi access
Safe
Hair dryer
Services
One&Only Cape Town five-star services of a personal butler to the welcoming smiles encountered at the hotel, the special care of each guest is attended to in a professional and discreet way.
24-hour personal butler service
Fresh fruit of choice
Choice of cocktail snacks
Housekeeping service
Nightly turndown service
Pillow selection menu
Aromatherapy turndown menu
Wining and Dining
Dining here is a wonderful experience with two well-known gourmet restaurants. The Nobu Restaurant, run by legendary Michelin-starred chef Nobu Matsuhisa, and Reuben's Restaurant, which is overseen by South African celebrity chef Reuben Riffel, are connected by the popular Vista Bar. From the Vista Bar, magnificent views of Table Mountain can be admired.
Services
Room Types
Room Amenities
Hotel Restaurants
Hotel Spa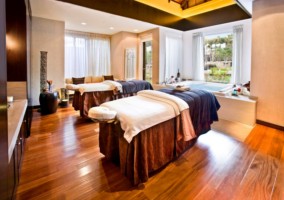 One&Only Spa Cape Town
Nestled on its very own lushly landscaped private island in the centre of the waterway, is an oasis of serenity; an unparalleled day spa in the heart of a bustling city and a perfect escape for a day of pampered rejuvenation. The most expansive and comprehensive spa in all of Cape Town offers a vast range of tailored holistic experiences, ranging from pure relaxation to unique wellness journeys.
The hotel has created a carefully considered environment for total wellbeing and is a true reflection of today's modern spa. Defining personal service and quiet indulgence, the 12 treatment rooms embrace local African influences combined with contemporary design.
The lushly landscaped Spa Island also offers a scenic relaxation room, sauna and steam facilities, singles and couples treatment villas, men's and women's changing areas, 'experience' showers with three different water settings, two 18-square-metre vitality pools and a full-service salon including the Pedi:Mani:Cure Studio by Bastien Gonzalez.

Fitness Centre
A state-of-the-art Fitness Centre within Marina Rise is fully equipped with Technogym® Excite supported by the Wellness System™, and a connecting studio features cutting-edge Kinesis™ and FLEXability™ facilities.

Spa Journeys
Philosophy
Unwind, Balance and Uplift. These are the cornerstones of the spa, three distinct pillars around which all spa therapies and treatments are created. Each features its own specialised set of holistic programs designed to guide guests in choosing the experiences best suited to their particular needs…from pure relaxation to unique wellness journeys.
Unwind
In this fast-paced world, it is often difficult to slow down and let our mind, body and soul unwind and relax. The Unwind Programme calms the mind and nerves, easing muscle tension to achieve a sense of deep relaxation and peace. Activities include a variety of spa treatments, meditation, nutrition and yoga.
Balance
During times of stress, lifestyles can become unhealthy and our bodies may feel sluggish and in need of detoxification. The Balance Programme is designed to cleanse and purify both mind and body, restoring the body's natural equilibrium. A full menu of spa treatments is complemented by cardiovascular exercise and cleansing nutrition.
Uplift
The daily stresses of life often lower our energy levels, leaving us feeling emotionally drained and creating a sense of exhaustion. The Uplift Programme can be experienced through body massage, energising fitness and nutrition. Focus is given to pressure points and energy centres of the body resulting in a sense of wellbeing and vitality.
Massage Therapies
Body Massage
This sophisticated Swedish style massage uses regulated pressure combined with long, strong movements to effectively ease tired aching back and limbs, excellent for releasing knots and tensions in the body. Your therapist can recommend the option most suited to your specific needs.
50 minutes
Unwind Massage
Using either ESPA Soothing or Restorative Oil to help you unwind and relax.
Balance Massage
Using either ESPA Detoxifying or Resistance Oil to help you cleanse, detoxify and restore.
Uplift Massage
Using either ESPA Energising or Fitness Oil to revitalise mind and body.

Spa Treatments
The ultimate unique treatments feature authentic, powerful techniques using ESPA products which together are tailored to return your natural equilibrium. These specialised spa experiences draw upon the rich and cultural heritage of the land and are exclusive to hotel.
Essence of Earth and Ocean Experience
This ritual is inspired by one of the first inhabitants of the Cape Peninsula, The San or Bushmen, who relied on the seashore for most of their food and medicine. This indigenous Signature Treatment uses many of the same therapeutic plants from the Earth, along with seaweed and salts from the Ocean, to soothe, hydrate and nourish the skin and deeply relax the body.
A local sea salt and oil exfoliation prepares your body for the conditioning and re-mineralising South African seaweed wrap and mind clearing scalp massage, followed by the unique full body massage using warmed sea shells to melt away tension and stress. Soothing Rooibos tea is served in the comfort of the relaxation room to complete your treatment journey.
120 minutes
Unwind Signature Experience
The Unwind Experience is ideal in alleviating jet lag, dehydration or stress. First, the body is cleansed with a soothing foaming exfoliator followed by a deeply relaxing massage which consists of long strokes and gentle rocking movements combined with the use of hot stones where needed to soothe and release tension. A Scalp Massage calms the mind, leaving you feeling completely rested.
120 minutes
Balance Signature Experience
The Balance Experience is popular with guests who enjoy a warm, stimulating massage to cleanse and revitalise body and mind. After a full body salt and oil exfoliation, this rhythmic, restorative, total body massage features warm herbal poultices which help increase circulation and relieve aches and pains to promote a feeling of wellbeing.
120 minutes
Uplift Signature Experience
The Uplift Experience is designed to relax and open the body's natural energy flow. Commencing with a cleansing exfoliation of hands and feet, this treatment is influenced by Thai Massage and performed on a floor mat wearing comfortable clothing. It uses point pressure, assisted stretching and compression movements, with rhythmic movement and gentle rocking. This experience will leave you feeling supple, energised and full of vitality.
Full Day
Whether choosing a full day or a half day spa programme, the selection of Spa Experiences promises complete wellbeing and serenity. Enjoy a full day of Spa treatments, including full access to our Thermal Suites with Sauna, Steam Room, Vitality Pool and Ice Fountain, our Spa Lounge and Relaxation area, Fitness Centre and a delicious Spa Cuisine Lunch. You are encouraged to arrive 60 minutes prior to your treatment start time to enjoy our facilities.
Any of the Spa Packages can be upgraded to the Private Spa Suite for Two, offering an unrivalled escape with personal steam room, soaking bath for two, relaxation area and double treatment room.

Half Day
Enjoy a half day of Spa treatments, including full access to the Vitality Pools with Sauna, Steam Room, Vitality Pool and Ice Fountain, our Spa Lounge and Relaxation area. You are encouraged to arrive 60 minutes prior to your treatment start time to enjoy the facilities.

Any of the Spa Packages can be upgraded to the Private Spa Suite for two, offering an unrivalled escape with personal steam room, soaking bath for two, relaxation area and double treatment room.
Send an Enquiry
Activities / Sports and Leisure
Conferences and Events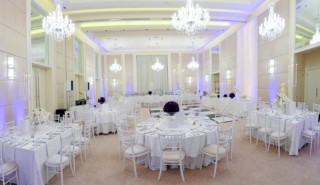 Corporate Events at the hotel
The resort in South Africa offers a beautifully appointed ballroom which measure 215m² with 63m² of outdoor space, being able to accommodate 112 guests for a sit down dinner or 200 for cocktails. This event space can be divided into two separate venues for a more intimate setting. The adjacent executive boardroom can seat 20 delegates and offers great views of Table Mountain. The second boardroom at the hotel seats 12 guests.
The Isola restaurant and the Island Pool Terrace can be booked for special outdoor events in the evenings which accommodate 66 guests. The five star hotel caters to different requirements, including arrangements of cocktail tables, background music, napkins, coasters and snacks.

Wi-Fi is available throughout this Cape Town hotel and dedicated staff is available to manage all aspects of the programme, including entertainment and team-building, to ensure an unforgettable and successful event.
AV Equipment Hire:
Room hire for the main conference room
PA system with standing microphone (1)
Lectern (1)
Projector screen (1)
Overhead projector (1)
VHS recorder (1)
Flip chart with pens (1)
Whiteboard with pens (1)
Conference pen and pads
Mineral water and sweets.
Ballroom
The multi-function Ballroom at the resort can be divided into two separate rooms or used as one, and is available for private events and conferences, accommodating 112 guests for a sit down dinner or 200 for cocktails.

Boardrooms
Conferences in the boardrooms are held in classroom and presentation style. The boardroom can accommodate 20 delegates.
Meeting Room

An additional meeting room for 12 guests provides two plasma screen televisions, a roll-down projection screen and video conferencing facilities and a full complement of business services.
Business Centre

Measuring 77m²/829ft², the six work stations at the hotel's Business Centre are equipped with three Apple Mac's and three personal computers, and plug-ins for laptops.
Send an Enquiry
Facilities
One&Only Cape Town Specials & Packages
Directions
From:
Cape Town International Airport
Cape Town, Western Cape, South Africa
21.5 km / about 25 mins

1. Head southeast 350 m
2. Slight right toward Ring 400 m
3. Slight right at Ring 130 m
4. Slight right to stay on Ring 92 m
5. Slight left to stay on Ring 400 m
6. Continue onto Airport Approach Rd 1.4 km
7. Continue onto Settlers Way 550 m
8. Take the ramp onto Settlers Way/N2 10.5 km
9. Take the exit onto N2 5.0 km
10. Take the exit onto Eastern Blvd/N2 1.2 km
11. Turn right at Coen Steytler (Walter Sisulu Blvd) Ave 77 m
12. Continue onto Dock Rd 350 m
13. At the roundabout, take the 1st exit onto Port Rd
Go through 1 roundabout 1.1 km
14. Make a U-turn
Destination will be on the left 79 m

One & Only Cape Town Resort & Spa
1 Dock Road, V & A Waterfront, Cape Town, Western Cape, South Africa
Accreditations