Nkwichi Lodge, Mozambique
Nkwichi Lodge, Mozambique
Nkwichi Lodge, Mozambique
Nkwichi Lodge, Mozambique
Nkwichi Lodge, Mozambique
Nkwichi Lodge, Mozambique
Nkwichi Lodge, Mozambique
Nkwichi Lodge, Mozambique
Nkwichi Lodge, Mozambique
Nkwichi Lodge, Mozambique
Nkwichi Lodge, Mozambique
Nkwichi Lodge, Mozambique
Nkwichi Lodge, Mozambique
Nkwichi Lodge, Mozambique
Nkwichi Lodge, Mozambique
Nkwichi Lodge, Mozambique
Nkwichi Lodge, Mozambique
Nkwichi Lodge, Mozambique
Nkwichi Lodge, Mozambique
Nkwichi Lodge, Mozambique
Nkwichi Lodge, Mozambique
Nkwichi Lodge, Mozambique
Nkwichi Lodge, Mozambique
Nkwichi Lodge, Mozambique
Star Bed - Nkwichi Lodge, Mozambique
Star Bed - Nkwichi Lodge, Mozambique
Star Bed - Nkwichi Lodge, Mozambique
Star Bed - Nkwichi Lodge, Mozambique
Star Bed - Nkwichi Lodge, Mozambique
Star Bed - Nkwichi Lodge, Mozambique
Nkwichi Lodge Reviews & Information
Use the drop down below to find out more information about Nkwichi Lodge.
The stunningly beautiful Nkwichi Lodge is in the Manda Wilderness Conservation Area on the shore of Lake Niassa, the 9th largest lake in the world, Mozambique. This vast, freshwater lake forms the eastern border between Malawi and Mozambique.
The lake features crystal clear water, which is home to a greater variety of indigenous fish species than any other lake. The lodge provides comfort and privacy and is ideal for families, couples and small groups. In front of the lodge, a pristine beach provides the central feature of Nkwichi. The hotel prides itself as a leader in responsible tourism and guests of the lodge are contributing to nature and the development of the community.
They offer intimate, private luxury combined with the highest levels of service, featuring four individual chalets, two premier chalets, two separate houses for larger families or groups and a unique open-air star bed. Each unit features a unique design and shady thatched roofs. Large four-poster beds are crafted from tree trunks, and outdoor bathrooms feature baths carved into the rock face, with showers set in the tree canopy. Beach and bathroom towels are provided, and each room has a veranda, complete with armchairs and hammocks.
Activities
Guided walks and hikes
Bushwalks
Community excursions
Picnics
Swimming
Snorkeling
Dhow sailing
Dhow safaris
Canoeing
Camping Trips
Bush braais
Below detailed information about the Nkwichi Lodge is available.
For any queries regarding this hotel, you are welcome to contact us.
Available Rooms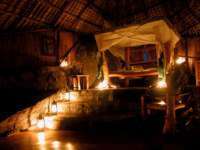 Standard Chalet
# Rooms:

4
Each Chalet at the magnificent Nkwichi Lodge in Mozambique nestles in the trees overlooking the pristine lake shores. Only a total of six private chalets are available at Nkwichi accommodatinga maximum of 14 guests.
Kuya Chalet
Kuya is hidden among the trees and the chalet is named after the cormorant. Kuya is a tranquil chalet at the Nkwichi Lodge which incorporates the natural rock and trees into its structure. The bathroom is located outdoors. This chalet is ideal for families as there is enough space for additional beds for young children.
Niassa Chalet
The Niassa chalet at the Nkwichi Lodge in Mozambique was named after the lake itself. The chalet is built on a rock face and features an impressive flight of steps leading up to a platform on which the bed is set. This romantic chalet features a private dining area in a forest clearing while the bathroom is tucked away behind the chalet.
Chimulimuli Chalet
Chimulimuli means firefly. Featuring two bedrooms, one double and one twin, it is ideal for a family getaway. The two bedrooms are linked by a seating area and porch and a small stream runs alongside the chalet.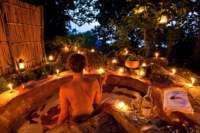 Premier Chalet
# Rooms:

2
Nkwazi Chalet
Nkwazi, the honeymoon chalet at the Nkwichi Lodge in Mozambique, was named after the African Fish Eagle. It is a bird which is often seen in front of the veranda.
The honeymoon chalet offers a magical setting, surrounded by the lake on two sides and with a private beach. This chalet features three folding sets of double-doors to maximize the wonderful views from the grand four-poster bed while the bathroom features a floodlit, heart-shaped bath for two on the lake shore.
Kakoa Chalet
The Kakoa chalet is named after the White Egret offering a secluded location with direct lake access. This chalet features its own dining area and outdoor bathroom with outstanding views looking out on to Lake Niassa.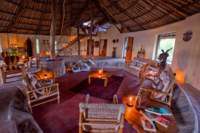 Mokolo House and Songea House
# Rooms:

2
Mokolo House
The Mokolo House at Mozambique's Nkwichi Lodge offers a magnificent private retreat overlooking the lake. This house features two en-suite bedrooms and is designed with natural materials and a high thatched roof. A loft platform offers a spectacular view of the sunset over the lake while the house offers private access down to the lake. Meals are served on site by a personal chef.
Songea House
The Songea House at Nkwichi is a unique house and chalet duo which is suitable for families and groups. Nkwichi's Songea House offers luxurious outside dining, a secluded private beach and views of the lake.
A large reception room with a sunken sitting area features a staircase which leads to an upstairs bedroom with balcony overlooking the room downstairs. A separate chalet is set a short distance from the main house and offers a bedroom and en-suite bathroom with double-bath. As with Mokolo House, meals are provided on site by a personal chef.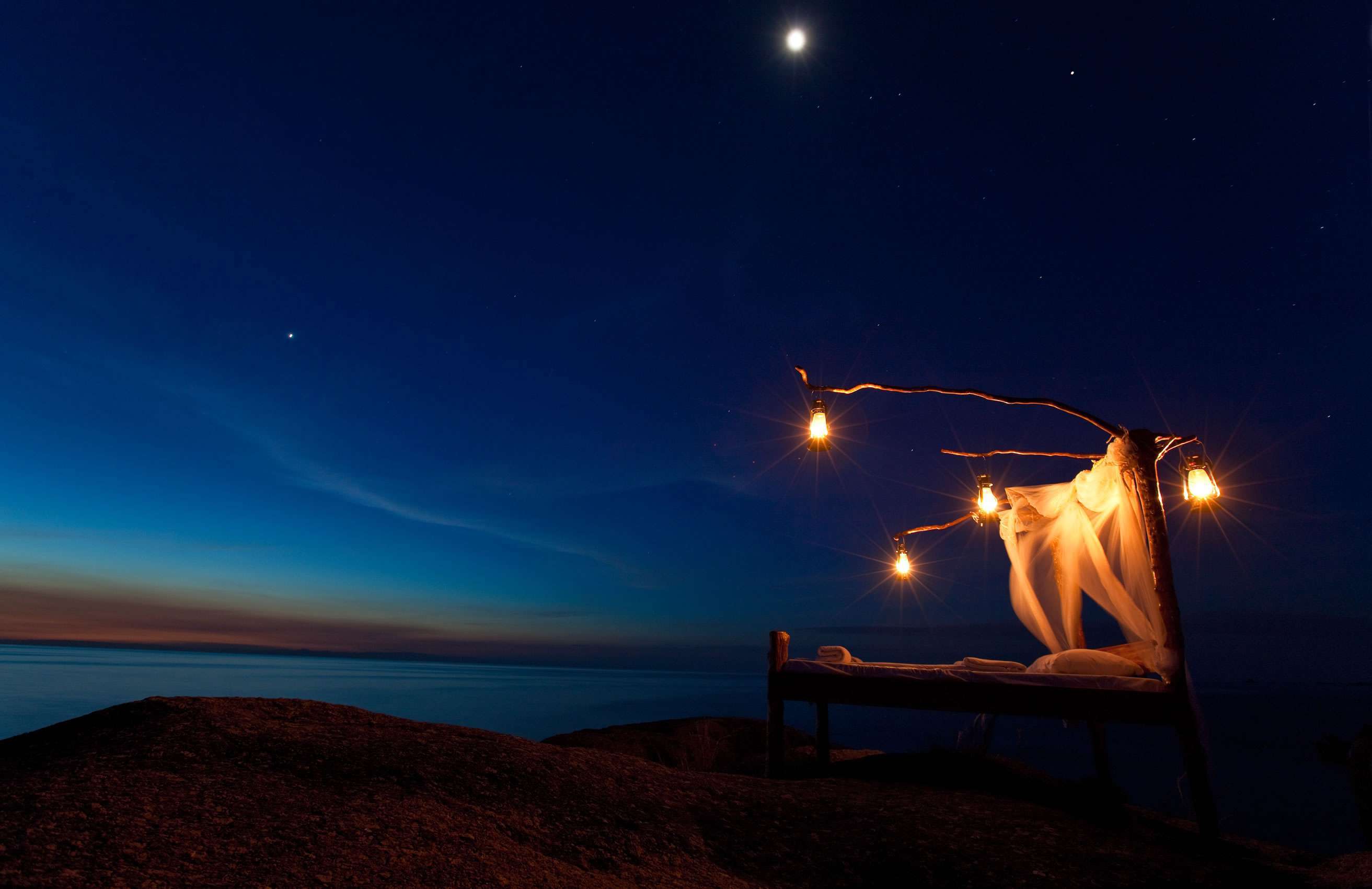 Lake of Stars Bed
# Rooms:

1
The Lake of Stars Bed at the Nkwichi Lodge in Mozambique can be moved to suit guests' needs. It is here where guests can sleep nestled on a private rock island, a deserted beach or on a mountain viewpoint.
Nkwichi Lodge Specials
The specials listed below will automatically be offered to you when proceeding through the booking process.
Mozambique has entered it's typical rainy season from January to March (January to February usually being associated with the highest rainfall), with temperatures here in the North Western Province of Niassa expected to be in the high twenties (Celsius) with high levels of humidity (creating the perfect African tropical ambiance).
Enjoy great Green Season savings at Nkwichi Lodge for travel before 15 March 2018 and stay for only US$200 per person sharing per night.
Included in the rate:
Full board accommodation, all meals (including tea & coffee), laundry, non-motorised activities, US$5 community bed-night levy, government taxes
Excluded from the rate:
Drinks, motorised boat activities, items of a personal nature, gratuities, insurance, flying doctor service, medical evacuation.
Boat transfer
Terms and Conditions:
Valid until 15 March 2018
Based on 2 adults sharing one chalet
All other normal Terms and conditions will apply
Subject to availability
free boat transfers on stays of 3 nights or more (always a supplement to be paid when coming from/going to Kaya Mawa).
BOOK NOW
Guest Reviews
Your review has been submitted
Thank you for submitting your review. Our team will check your review and be in touch should we have any questions.
An error was found. Please correct and submit again.
Share your personal review with us of your stay at this property.
---
GPS Co-Ordinates
Latitude: -12.157038
Longitude: 34.735866
Directions
From Lichinga to Cobue: the journey takes around 4.5hours:

1. Leaving Lichinga take the tarmac road to Metangula, passing the turn off to the airport.
2. After 80 kms, on the edge of the escarpment, is Manhamba village. At the end of the village (by a stop sign) turn right towards Metangula - straight on the road comes to a dead end. From Michumwa it is 91km to Cobue, which takes around 2 hours.
3. Metangula is 106km from Lichinga, taking under 2 hours driving. The road is tarmac the whole way, with some excellent views over the lake just before arriving in Metangula. At the cross roads in Metangula, turn right to Chuangwa beach and Cobue (straight takes you to the beach and left up the hill to the administration buildings).
4. The road follows the lake shore for a few km. At Chuangwa (where you can see a big, golden beach) the road to Chuangwa turns left. The road to Cobue continues straight on.
5. After 5 mins the road will fork again, the right hand fork crosses a narrow cement bridge - this is the road to Cobue, the left road descends into a sandy river bed - do not take this road.
6. The last 60km (1.5 hrs) of the drive is through the Manda Wilderness Community Conservation Area - keep your eyes open and you may catch a glimpse of some wild animals.
7. Drive past the ruined church, after 100km turn right down to the beach.
8. After 30m take the track on the right (just after the circular carpentry shed under the mango trees) - this track will lead you to Kango Beach Lodge - a backpackers run by Julius who will be your contact person in Cobue. There is safe and secure parking here.
8. Nkwichi boat crew will be waiting for you on the beach in front of Kango Beach Lodge. You MUST make a booking, or the boat will not be waiting.
9. From Cobue, it is 25mins by speed boat and 1 hour by motorised dhow to the lodge. Nkwichi Lodge is only accessible by boat or by walking (3 hours from Cobue).
On site parking facilities are provided for guests.
Convert multiple currencies