La Residence
Star Rating:

Hotel Type:

Spa, Leisure

Address:

Elandskloof Private Road
Elandskloof Farm
Franschhoek
Cape Winelands
Western Cape
South Africa
Single Rate for Today:
R6660.00
Book Now
Overview
The award winning La Residence Hotel is beautifully set on a private 30-acre estate in the lush Franschhoek valley of South Africa's magnificent Cape Winelands. Spectacular views of the tranquil surroundings can be enjoyed from this boutique hotel which is surrounded by fruit orchards and vineyards and plum orchards, with a magnificent mountain backdrop.
The five star retreat reflects exquisite opulence and luxury in its interior decor, facilities and stylish hotel accommodation. It forms part of 'The Royal Portfolio' in South Africa along with the other properties being the Royal Malewane Lodge in the Timbavati Game Reserve and the Birkenhead House in Hermanus.
Accommodation
Each suite has been individually decorated with its own colours ranging from the Tibetan Suite with its oriental antiques to the blue and yellow Chambre Bleu which reflects a Provençal flair.

The Villas are ideal for families as they can accommodate either two, four or six guests. Featuring open-plan dining and living areas as well as private gardens and terraces, the Villas offer a great alternative to the suites of the hotel.

East Wing Hotel Rooms:
Honeysuckle Suite / Suite 1 - Luxury Room, Ground Level
Tang Suite / Suite 2 - Luxury Room, Ground Level
Frangipani Suite / Suite 3 - Superior Room, Ground Level
Disa Suite / Suite 4 - Superior Room, Upper Level
Tibetan Suite / Suite 5 - Luxury Room, Upper Level
Huguenot Suite / Suite 6 - Superior Room, Upper Level.
West Wing Hotel Rooms:
Hibiscus Suite / Suite 7 - Luxury Room, Ground Level
Chambre Bleu Suite / Suite 8 - Superior Room, Ground Level
Armani Suite / Suite 9 - Luxury Room, Upper Level
Nomatemba Suite / Suite 10 - Luxury Room, Upper Level
Maharani Suite / Suite 11 - Superior Room, Upper Level
Facilities
Exclusive facilities and convenient services for discerning guests are available making for a luxurious and memorable stay in the Cape Winelands of South Africa.

Facilities include:
Outdoor swimming pool
Health and beauty spa
Dining venue
Lounge and bar
Beautiful terrace
Dam and ponds
Lovely gardens
Fruit orchards
Dining
La Residence Restaurant's lavish breakfast buffets are bound to satisfy anyones hunger with cereals, fruits, cheeses, and meats, not to mention their hot breakfast menu as well. Lunch is light and tasty, and usually consists of regional produce which is used in their preparation of traditional game such as springbok, local fish, and free range poultry. The restaurants dining area is reminiscent of a manor hall, with sparkling chandeliers and vast fireplaces. All menus in La Residence's restaurant can be paired with excellent South African wines.
Activities
Guests have access to many activities such as swimming in the outdoor swimming pool, enjoying a relaxing spa treatment in The Spa or visiting one of the nearby vineyards for a fine wine tasting tour. Trout fishing, golf, quad-biking, paragliding, helicopter trips, hot-air ballooning and horseback riding can be arranged as well.
The Spa

Guests have a great alternative to sightseeing and wine tasting. They are welcome to relax and unwind in the tranquil surrounding of the spa treatment rooms where various pampering procedures await.

The spa's signature treatments include the popular Swedish Massage which has been specifically designed to relax muscles, increase muscle tone and stimulate circulation. The Deep Tissue Massage, which is tension-releasing, eases stiff necks, sore shoulders as well as lower back tightness.
Location
La Residence is in the immediate surrounds of the Franschhoek village, there are more than 40 wine estates in the vacinity, several of which have achieved world renown and many of which offer classical concerts, art exhibitions and jazz evenings alongside cellar tours, tutored wine tastings and award-winning dining experiances.
The Huguenot Museum and Monument provide an insight into the history and origins of the region and South Africa at large.
Should you be wanting to experience the city nightlife, Cape Town is 45 minutes away, and if you'd prefer to make a day trip, there are some maginificent beaches and restaurants to visit around the Cape Peninsula.
Services
Room Types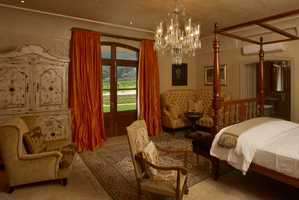 The Luxury Rooms at La Residence boutique hotel in Franschhoek are well appointed suites, exquisitely decorated with ornate antiques, plush Persian carpets and an eclectic mix of artworks, and palatial bathrooms.
Luxury Rooms at La Residence

Room 1: The Honeysuckle Suite

Guests staying in this beautifully appointed room at La Residence may be enchanted by summer hues in oranges and yellow. This bright and warm room is embellished by a mahogany 4-poster king-sized bed. Vivid South African art graces the walls, and the view stretches across the sunlit vineyards to the mountains beyond. A private verandah leads onto the garden.

Room 2: The Tang Suite

Revel in regal reds and greens. Rich styling includes a king-sized bed with ornately padded headboard that can be separated into twin beds. Large Chinese scrolls adorn the wall above the plush sofa. Panoramic vistas include the mountains and the room opens onto a verandah leading directly onto the garden.

Room 5: Tibetan Suite

Be transported by oriental oranges. Large Tibetan murals hang above the king-sized bed with plush padded headboard (that can be separated into twin beds if required). Sweeping views include the beautiful vineyards and mountains which can also be appreciated from the private balcony.

Room 7: The Hibiscus Suite

Guests may relax in the subtle shades of pink and mauve. Marble flooring supports a stately king-sized bed with padded headboard which is picked up by the elegant pink marble basins in the generous bathroom. This room offers exquisite views across the lawn, down onto the pond and across to the mountains beyond. The verandah leads onto a manicured lawn.

Room 9: The Armani Suite

Modern classic chic in black, white, brown and grey. This room features an impressive painting of a ballerina, accompanied by other noteworthy graphics in black and white. The tones carry through into the king-sized bed and padded headboard. Views from both the room and private balcony take in the lawn, the pond and the mountains beyond.

Room 10: The Nomatemba Suite

Accents of the African sun are harnessed in the dominant yellows. A king-sized bed with padded headboard is set off by large, colourful African paintings. Views from both the room and the adjoining balcony take in the lawn and pond with the mountains behind.

Today's Rate
Single Room: R6660.00
Double Room: R8880.00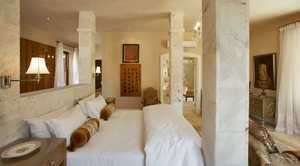 La Residence boutique hotel in Franschhoek, Cape Winelands, offers eleven luxuriously appointed suites, exquisitely decorated with ornate antiques, plush Persian carpets and an eclectic mix of artworks, and palatial bathrooms.

An integral part of the luxurious La Residence experience is the elaborate interior. Each of the eleven rooms is uniquely appointed; from an exotic Tibetan suite with oriental antiques and hand-painted screens to French boudoirs with Provencal antiques and mirrored dressers. The fabrics throughout include superlative silks and textures, handpicked to match each interior. The dining and living areas resemble an elegant manor hall. Communal areas lead onto country terraces where roses and fountains make for serene summer evenings.

Superior Rooms at La Residence

Room 3: The Frangipani Suite

Stylish in white and gold, this light and airy white marble room is set apart by a built-in king-sized bed on a heated marble plinth. The mirrored bathroom is referred to as the Versailles Bathroom. Views are of the vineyards and mountains and a verandah leads onto the garden.

Room 4: The Disa Suite

Relish the vibrant greens, pinks and mauve of this unique and artistic boudoir. Signature pieces include a bold pink chaise lounge and impressive 4-poster king-sized bed in lime green. The room looks across the vineyards to the mountains and also onto the pool and garden, which can also be enjoyed from the balcony.

Room 6: The Huguenot Suite

In remembrance of the first settlers in the area this room is decorated in blues and yellows. An inviting 4-Poster king-sized bed picks up the yellow tones, complemented by a hand-painted screen in blue and white. The private balcony allows guests to take in the views across the vineyards to the mountains.

Room 8: Chambre Bleu Suite

Sophisticated blues and greens make up this palatial parlour. An elevated king-sized 4-poster is accompanied by old-world footstools to assist ascending onto the bed. This room has the luxury of two verandahs, both leading out to the garden, one looking across the perfectly manicured lawn onto the pond, and the other facing an olive grove and the mountains.

Room 11: The Maharani Suite

Enjoy the exotic, where red and yellow bring vibrant Indian décor to life. Large Indian paintings and crystal wall-sconces make it all the more lush. A built-in bed incorporates a padded headboard made from antique fabric. The room boasts two balconies, one overlooking the lawns and pond, and the other that faces an olive grove and the mountains.
Today's Rate
Single Room: R7370.00
Double Room: R9770.00
Hotel Restaurants
Dining is always a leisurely experience where guests may enjoy most of the culinary secrets of the picturesque Franschhoek Valley, allowing themselves to be tempted by any of the gourmet dishes of fine flavours, diverse textures, freshest local ingredients and attractive presentation.
Everyday fare includes delights such as Salmon Trout fish cakes, imaginative salads with refreshing fennel bulbs, pickled lemons, caper berries and various crispy nuts. Celebrating the passion for regional produce, La Residence enjoys preparing traditional venison, local fish and free range poultry.
Seasonal ingredients such as fruits, salad leaves, vegetables and herbs are harvested from the estate's bountiful gardens. Hand crafted cheeses such as Chevin, Boeren Kaas, superb local Gruyere, drunken Pecorino and creamy Blue Cheeses are sourced and served with home-made preserves and breads from our ovens.
Guests are encouraged to put forward their food preferences, allergies and dietary requirements so that the boutique hotel can prepare their very own special meals. All menus are complemented by the best South African wines to round off the fine dining experience.
Address: Elandskloof Private Road, Elandskloof Farm, Franschhoek, Cape Winelands, Western Cape, South Africa
Hotel Spa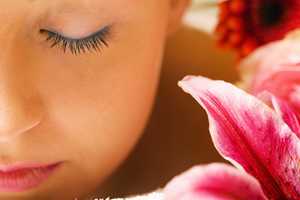 Health & Beauty Spa at La Residence, Cape Winelands

Guests of the exclusive La Residence boutique retreat may indulge in deep relaxation with an array of pampering treatments, available in the privacy of their own room or private balcony.
La Residence in Franschhoek, Cape winelands, uses a network of highly qualified outside therapists that cater to individual needs. Spa treatments range from massages and beauty treatments to whole-body therapies.
Send an Enquiry
Activities / Sports and Leisure
Conferences and Events
Facilities
La Residence Specials & Packages
Directions
Directions from Cape Town International Airport to La Residence, Franschhoek
1. Follow the exit signs. Take the exit to Somerset West on the N2.
2. Proceed along the N2 towards Somerset West. After passing the airport runway on your left, turn onto the R300 towards Paarl.
3. Proceed to the end of the R300 and take the N1 to Paarl.
4. Take exit 47 marked Klapmuts
5. Turn right onto R44, drive under the N1 Motorway
6. Take the second left turning marked Franschhoek
7. At the Tjunction turn right.
8. Drive towards Franschhoek. On approaching Franschhoek Town, just past the Franschhoek Cellars on your right, turn left into De Villiers Street.
9. Take your first left into Dirkie Uys Street.
10. Proceed along Dirkie Uys Street, past Domaine Des Anges on your left. Dirkie Uys Street ends in a gated Tjunction.
11. Turn right into Elandskloof Private Road. About 400m up the road, on your right side, you will see the entrance gate to La Residence.
Accreditations
Awards of La Residence, Cape Winelands / South Africa

La Residence opened in October 2007.The staff continuously strives to provide their guests with an unforgettable experience of a truly superior nature.
This commitment to excellence has resulted in La Residence receiving international acclaim in the form of the following prestigious awards:
Best Hotel in Africa - Ultra Travel Awards (UK) 2010
South Africa's Leading Luxury Hotel - World Travel Awards (SA) 2010
101 Best Hotels in the World - Tatler Travel Guide (UK) 2010
Top 10 Best Places to Propose - Mr. & Mrs. Smith (UK) 2010
101 Best Hotels in the World - Tatler Travel Guide (UK) 2009
"Hideaway of the Year 2009" Grand Award Winner- Andrew Harpers Hideaway Report
Best new sensation in the world - Tatler (UK) 2009
100 Ultimate Escapes - Luxury Resorts- Robb Report (USA) 2008
The 65 Hot Hotels and best new places in the world to stay - Conde Nast Traveller (UK) 2008
The World's Top New Hotels - Conde Nast Traveler (USA) 2008