Garden Court Marine Parade

Rating:

Hotel Type:

City, Beach, Family, Conference

Address:

167 O R Tambo Parade
Marine Parade
Durban 4001
KwaZulu Natal
South Africa
Overview
Guests at the Garden Court Marine Parade in Durban, KwaZulu-Natal, may enjoy the magnificent sunrise over the Indian Ocean from the comfort of their room. Situated on Durban's Golden Mile, this modern hotel provides panoramic views of the city's beautiful coastline.
From the indoor swimming pool, which is located on the 30th floor, guests receive an aerial view over the beach while cooling off indoors. Due to the entral location, guests are in close proximity to Durban's major tourist attractions.
The convenient and stylish room fittings ensure that guests are accommodated in a relaxed and comfortable atmosphere. Most of the rooms feature sea views so that guests are never far away from the beautiful sights and sounds of the scenic Durban Coastline.
Accommodation
There are a total of 348 rooms each of which provides modern and easy to use amenities to ensure an enjoyable stay. The rooms feature their own private en suite bathroom.
Amenities available in the rooms:
Tea & coffee making facilities
Safe
220v Guest room adaptors
Hairdryer
WI FI
Business Service and Facilities
Corporate travellers are well catered for with the following business services and facilities which they can make use of during their stay.
boardrooms
courier service
fax
laminating
secretarial services
PC/ printer services
copy
WI FI
Conferences
There are seven conference facilities available, each of which can accommodate a different group size.
Conference equipment:
screen
flip charts and pens
TV/VCR and DVD player
note pads and pens
Services
Room Types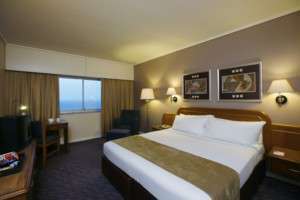 A total of 339 Standard Rooms are available at the Garden Court Marine Parade in Durban, KwaZulu-Natal. Most of the rooms provide magnificent sea-views where guests can look over the beautiful Durban shores.
Combining art-deco style with comfort, the hotel rooms at the Garden Court Marine Parade in Durban ensure guests are accommodated in comfort during their stay. Each room has its own air conditioning unit as well as an en suite bathroom. Smoking as well as non smoking rooms are available upon request.
Standard Room types:
156 standard rooms with a king size bed
183 standard rooms with two double beds.
Each room is fitted with the following amenities:
tea/ coffee making facilities
safe
air conditioning
guest room voltage 220V
hairdryer
WI FI
Today's Rate
Single Room: R1060.00
Double Room: R1160.00
Room Amenities
Hotel Restaurants
The Garden Grill Restaurant is found in the hotel premises at the Garden Court Marine Parade. Guests are invited to sit in the dining area overlooking the beautiful hotel garden and enjoy their meal.
Open daily for breakfast as well as dinner, the Garden Grill offers a full English Breakfast Buffet as well as a comprehensive dinner buffet. Guests can expect some locally inspired dishes such as the famous Durban Curry as well as internationally inspired foods. Children are catered for as well at the Garden Grill Restaurant in Durban.
Hotel Spa
Activities / Sports and Leisure
Conferences and Events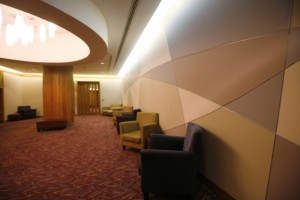 Two of the seven conference venues available at the Garden Court Marine Parade in Durban, South Africa, are the DHS1 and DHS2 venues. These are seperate conference venues which can be joined to make a larger venue.
DHS 1
Cinema 150 people
Schoolroom 72 people
DHS 2
Cinema 150 people
Schoolroom 72 people
DHS 1 + DHS 2
Cinema 300 people
Schoolroom 150 people
Conference equipment available in the conference venues:
screen
flip charts and pens
TV/ VCR and DVD player
Note pads and pens
WI FI access
fax
copy
courier
Send an Enquiry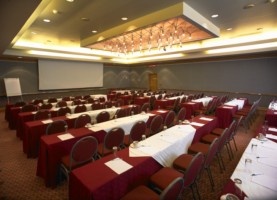 The Glenwood and Hilton conference venues at Durban's Garden Court Marine Parade hotel can join up to accommodate a larger function and group.
Glenwood
Cinema 50 people
Schoolroom 21 people
Hilton
Cinema 50 people
Schoolroom 21 people
Glenwood + Hilton
Cinema 100 people
Schoolroom 42 people
Conference equipment available in the conference venues:
screen
flip charts and pens
TV/ VCR and DVD player
Note pads and pens
WI FI access
fax
copy
courier
Send an Enquiry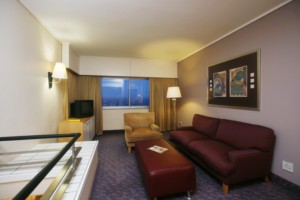 Michaelhouse
Conference equipment available in the conference venues:
screen
flip charts and pens
TV/ VCR and DVD player
Note pads and pens
WI FI access
fax
copy
courier
Send an Enquiry
Facilities
Garden Court Marine Parade Specials & Packages
Directions
Driving directions to Garden Court Marine Parade from King Shaka Airport, 30 mins, N2 Rd and M4, 32.7 km

1. Head southwest toward Mdloti St 700 m
2. Turn left onto Mdloti St 2.3 km
3. Keep right at the fork and merge onto N2 Rd 12.0 km
4. Take the exit 182 on to the M41 to Mount Edgecombe 650 m
5. Turn left to the M41 2.7 km
6. Turn on to the ramp to the M4 11.7 km
7. Turn left onto Argyle Rd 240 m
8. Turn right onto Sylvester Ntuli Rd 1.2 km
9. Turn left onto K E Masinga Rd 270 m
10. Take the 3rd exit at the roundabout onto Marine Parade 650 m
11. Turn left onto Sea View St 70 m
12. Take the 1st left onto O R Tambo Parade Destination will be on the left 110 m

Garden Court Marine Parade
167 O R Tambo Parade, Marine Parade, Durban, KwaZulu Natal
Parking