Blue Views Apartments and Villas Reviews & Information
Use the drop down below to find out more information about Blue Views Apartments and Villas.
Centrally located in one of Cape Town's most sought-after areas, the Blue Views Apartments and Villas in Cape Town offer five-star, self-catering properties which are situated within the secluded and concealed area of Bakoven and Camps Bay.
They have a minimum stay of 4 during the winter months and 14 nights in summer. These luxurious apartments and villas range from private one bedroom studios and two - bedroom family cottages to spacious, modern seven bedroom Penthouses all of which are within walking distance to the private Bakoven beach and the palm-fringed Camps Bay beachfront.
Each of the ten luxury apartments provides beautiful views which vary from panoramic and partial vistas of the Atlantic Ocean, Table Mountain and the Twelve Apostles mountain range.
Apartments and Villas Options:
Studio 1: one bedroom open plan apartment with partial sea views and off street parking
Studio 2: one bedroom apartment with a galley kitchen and private courtyard as well as off-street parking
Cottage: a family unit with two bedrooms, sea views from the deck and private pool
Penthouse 1: two bedroom, en-suite apartment with uninterrupted views of the Atlantic Ocean, private pool deck, direct access via single garage
Residence: five-bedroom unit boasting a wraparound barbeque terrace and private pool area as well as a gas fireplace
Villa: five-bedroom unit offering a garden and pool area, full view of the Atlantic Ocean below, wooden fireplace
Location: a five-bedroom unit with a wrap around yard area, pool and outdoor dining area
Penthouse 2: five-bedroom unit featuring an eight-meter glass panelled pool overlooking the ocean, two entertaining rooms
House: seven bedroom unit offering sea views and direct access from a double garage as well as off-street parking
Terrace: seven bedrooms with magnificent Atlantic Ocean views, direct access from a double garage, terrace-balcony from bedrooms and private pool.
Facilities
The spacious and sought after apartments and villas feature not only en-suite bathrooms and fully equipped kitchens but also welcoming leisure facilities such as swimming pools, barbeque terraces and gardens for outdoor enjoyment and entertainment.
Apartment and Villa features:
En-suite bedrooms
Fully equipped kitchens and laundry facilities
Open plan dining areas
TVs with satellite channels
WIFI or ADSL connectivity
Private swimming pools and barbeque areas
Balconies and terraces
Garage and off street parking
Monitored alarm facilities
Underfloor heating in certain areas
Air conditioning in selected rooms
Fireplaces.
Services
Housekeeping daily from Mondays to Saturdays
Pre-arrival shopping
Babysitting if required
Chef if requested
Private tours and transfers
Concierge services to recommend and book excursions and restaurants.
Below detailed information about the Blue Views Apartments and Villas is available.
For any queries regarding this hotel, you are welcome to contact us.
Available Rooms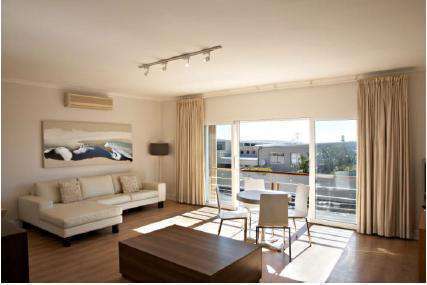 One Bedroom Studio in Camps Bay, Cape Town, offers off-street parking and partial sea views from the unit's lounge area. The unit offers a kitchen with all the basic necessities and underfloor heating in certain spaces, air-conditioning in the lounge and WIFI connectivity, flat screen TV, DVD player and satellite channels.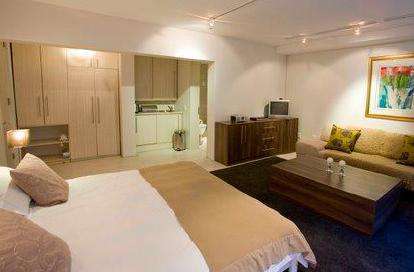 The Studio 2 in Camps Bay is a small open place 1 bedroom unit, with en-suite bathroom and kitchenette equipped with the bare essentials. The unit features underfloor heating and a private courtyard as well as off-street parking facilities.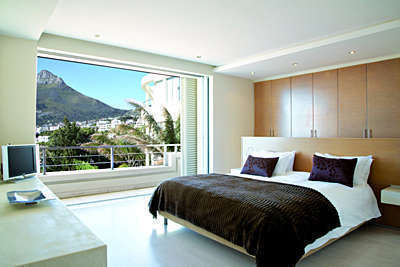 The Penthouse 1 in Camps Bay, Cape Town, offers two bedrooms with double beds, personal safes and en-suite bathrooms. A private guest bathroom is located separately in the unit. The luxurious Penthouse 1 is air-conditioned and offers underfloor heating in certain areas. An open plan dining area and fully equipped kitchen with laundry facilities is available for use when required.
A gas fireplace uniquely stationed between the lounge and bar areas, allows an easy transition from the interior to the exterior. Just outside the bar and lounge area, guests can enjoy the deck area for sun bathing and a barbecue facility while on the other side, a plunge pool with uninterrupted views of the coast line can be admired.
Facilities in the Penthouse lounge include a flat screen, DVD player and a WIFI hotspot. The single vehicle garage is attached to the unit allowing direct access from the car into the house via remote control. Housekeeping services the Penthouse 1 in Camps Bay daily from Mondays to Saturdays, the exact times can be arranged upon check in.
The Penthouse 1 in Camps Bay offers a convenient 'lock up and go' system with an electronic security system throughout the unit. This luxury apartment in Camps Bay lies within 10 minutes walking distance from the concealed and isolated Bakoven beach and is in walking distance from the Camps Bay beach.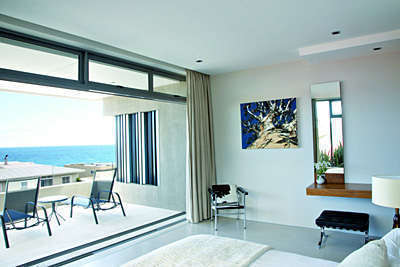 The Greg Wright masterpiece Residence is a 4 bedroom villa which has 2 bedrooms that are situated on the lower level of the house while the other two bedrooms can be found on the second level. Each bedroom at this luxury villa offers en-suite bathrooms as well as a terrace or patio.
Air conditioning and underfloor heating can be found in the main bedroom and in selected rooms and areas of the unit. The kitchen is fully equipped with all necessary appliances inclusive of a washing machine, tumble dryer and dish washer. Housekeeping is offered daily from Mondays to Saturdays, and times can be arranged and confirmed upon check in.
Throughout, the Residence in Camps Bay is secured by a monitored alarm system and access to the unit is provided from the street through a double garage remote control. The Residence is fully equipped with satellite channels, flat screen TVs, DVD player and WIFI hotspot.
The exterior boasts a magnificent view of the Twelve Apostles mountain range while the pool deck offers a full view of the Atlantic Ocean ahead. The pool itself is a feature on its own with full glass panels and mood lighting at night.
The fireplace indoors features a unique Greg Wright signature design incorporating lines and geometric shapes to flow with the natural surroundings. The terrace wraps around separated by a balcony garden between the pool, dining area and open plan kitchen.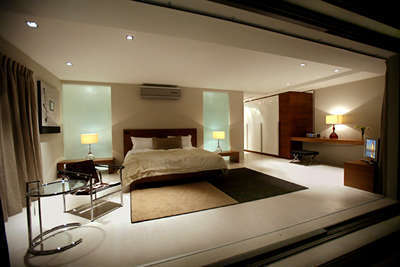 Cape Town's very own Greg Wright designed this Camps Bay flagship property, with emphasis of the surrounding views from every room. The glass paneled pool measures eight meters in length. This infinity pool makes one feel like you are submerged within the Atlantic ocean itself.
This Penthouse has 5 en-suite bedrooms, 4 on the lower level, and1 on the upper level. Each bedroom features its own terrace or courtyard and is fully equipped with a flat screen TV, DVD player and satellite channels.
This luxury apartment in Camps Bay, offers a unique feature with the outdoor/indoor gas barbecue which allows for versatile dining options and an open plan kitchen with all modern necessities in appliances.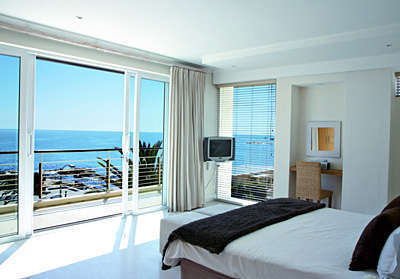 Located in Bakoven, Camps Bay, on Victoria Road, the Terrace Villa features 7 bedrooms all with individual en-suite bathrooms featuring bath tubs or showers.
With five bedrooms located upstairs and two on the lower level, architect Greg Wright worked around the Terrace's natural surroundings and offers two bedrooms leading out onto a balcony on the upper level and one bedroom with a private courtyard downstairs. The other main room connects onto the wrap around terrace to the pool terrace.
2 of the bedrooms have air-conditioning, TV and satellite channels in the main bedroom, and CD players in each room.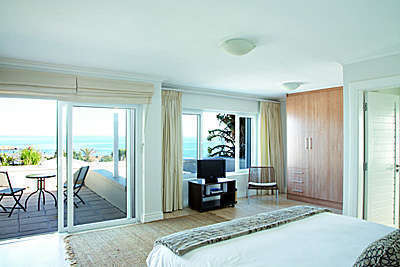 Located in the secluded area of Bakoven, this unit is 21 meters from the concealed Bakoven beach. With 3 bedrooms on the lower level and 4 on the upper, this unit is your home away from home.
The single garage allows direct access to the unit and controlled by remote control, in addition, there is off-street parking outside the unit as well monitored electronic alarm system throughout the unit. Each bedroom has its own en-suite and 2 of the 7 are air conditioned, and flat screen TVs and CD players can be found in each room. The upper floor bedrooms have private balconies and/or courtyards with private seating areas.
Underfloor heating can be found in certain areas and the unit offers a separate TV room with satellite channels, DVD player, PC station and WIFI connectivity including a fax facility. An open plan dining area and lounge area with a central fireplace, and kitchen fitted with modern appliances, washing machine and tumble dryer as well as a dishwasher can be found here.
Blue Views Apartments and Villas Specials
There are currently no specials for the Blue Views Apartments and Villas.
Please check again soon.
Guest Reviews
Your review has been submitted
Thank you for submitting your review. Our team will check your review and be in touch should we have any questions.
An error was found. Please correct and submit again.
Share your personal review with us of your stay at this property.
---
Star Rating
5 Star
Memberships
SATSA (Southern Africa Tourism Services Association)