The perfect positioning of the Beach Hotel Swakopmund is only 51 metres from the Ocean and close to the centre of historical Swakopmund; ideal for you to explore the local attractions; be it lazing on the beach, shopping in the town centre, or quad biking on dunes. The hotel is run by the AHA hotel group from South Africa.
Start the day in the aha hotel's gym followed by a well-prepared buffet breakfast. Later take a dip in the roofs luxurious terrace pool with views of the ocean, followed by a meal in the à la carte restaurant ensued either by drinks at the hotel's bar or sit in the lounge drinking coffee. Wifi, conference and meeting rooms available makes this accommodation suitable for the business client.
The Beach Hotel Swakopmund has many room options allow this hotel to cater for the varying needs of guests, from larger apartment rooms giving families and groups the choice of staying together yet still allowing for privacy with private rooms and balconies, options of views of the sea, to smaller standard rooms which are perfect for those just spending the night.
Below detailed information about the Beach Hotel Swakopmund is available.
For any queries regarding this hotel, you are welcome to contact us.
Air Conditioning
Balconies
Beverage Maker in Room
Direct dial telephone
Ensuite / Private bathroom
Fridge
International electrical adapters
Microwave
Safe
Selected satellite channels
Conference venue
Gym
Hotel Bar
Restaurant
Rooftop Pool and Deck
Check in and Check Out Times
Check in: 14:00
Check out: 10:00
Business Services
General Services
24 - hour reception service
Housekeeping service
Massage treatments
Tours & Transfers on Request
Available Rooms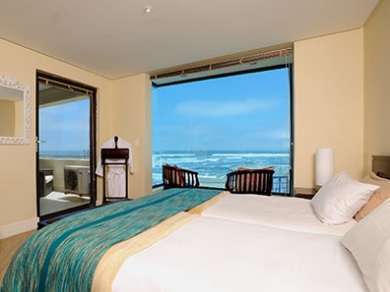 The Apartment/ Family Room Combo has a bedroom with en-suite bathroom with two inter-leading bedrooms which share a bathroom, therefore sleeping groups of upto six people. The three well-scaled bedrooms and the living room have a balcony each with sea views.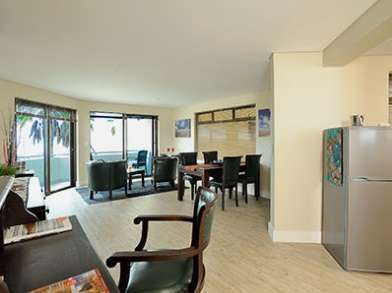 Two separate bedrooms with their own bathroom and balcony, sharing an open plan kitchen and balcony. A great choice for a family or friends to stay on holiday.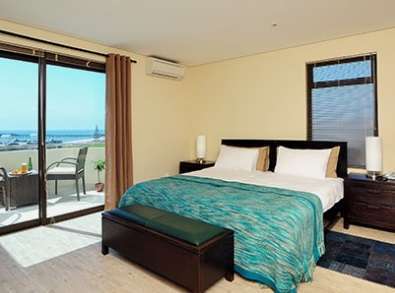 The Comfort Rooms are on the third and fourth floors. Each room has a balcony with sea views with outside furniture to allow for that morning coffee overlooking the ocean. The Comfort rooms are individually decorated. These rooms are ideal for either singles or couples wanting to stay close to the beach or travelling on business.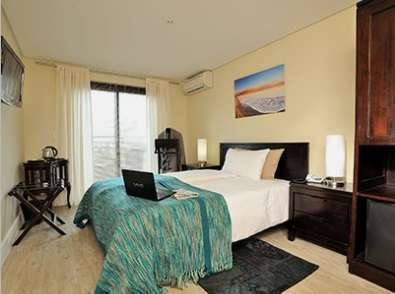 The Standard Rooms are slightly smaller, and at the back of the building, therefore they do not offer a sea view. There is a common balcony which is shared by the neighbouring room which is ideal if you are travelling as a group or larger family. The standard rooms are fitting for singles and couples wanting a room to stay in overnight.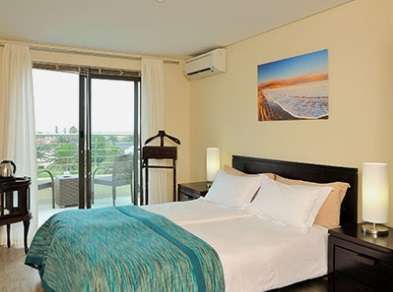 The Standard Family Rooms allow for up to 4 guests sharing one bathroom with two interconnecting bedrooms, making it also suitable for couples who prefer two bedrooms.
The Standard Family rooms are smaller than the Comfort Apartments so for longer stays, this room would most likely be advised.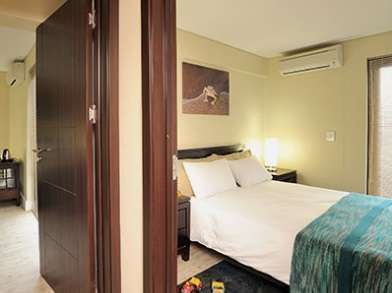 Family Apartment (Luxury Apartment & Family Room)
The Apartment / Family Room Combo
The Apartment/ Family Room Combo sleeps up to 6 people with one bedroom with an en-suite bathroom and two interconnected bedrooms which share one bathroom. All the bedrooms have their own sea-view balcony perfect for friends who are happy to share a space but prefer a bit of privacy too.
Beach Hotel Swakopmund Specials
There are currently no specials for the Beach Hotel Swakopmund.
Please check again soon.
Guest Reviews
Your review has been submitted
Thank you for submitting your review. Our team will check your review and be in touch should we have any questions.
An error was found. Please correct and submit again.
Share your personal review with us of your stay at this property.
---
GPS Co-Ordinates
Latitude: -22.685669
Longitude: 14.523596
Directions
From: Swakopmund Airport, Swakopmund, Namibia

Head northwest toward Sam Nujome Ave for 2 min (1.8 km)
Follow Sam Nujome Ave to Moses Garoeb St/Nordring for 4 min (3.2 km)
Continue on Moses Garoeb St. Take Rhode Allee and Swakop St to Am Zoll/Strand St
for 4 min (1.9 km)

Arrive at the Beach Hotel Swakopmund
Sundstrand St. 1, Swakopmund, Namibia
A car rental service is available. To receive a quote or arrange car rental booking, please click the button below.
Book Car Rental
On site parking facilities are provided for guests.
Convert multiple currencies